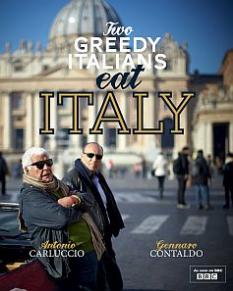 This book accompanies the new TV series of the same name on BBC2.  I could watch these two chatting and laughing away all day but sadly there are just 4 episodes .
By these 'two' I mean of course Antonio Carluccio and Gennaro Contaldo.  they've been around for as long as I can remember and truly are some of the first ambassadors for Italian food with dozens and dozens of books, articles and TV appearances between them.
Reading this book cover to cover, it almost felt like a travel guide. There is some beautiful photography throughout the book- of the food but also the regions they visited. My geography if Italy isn't great so I found myself searching for maps to discover where the wondrous sounding towns they mention were so a map would have been useful to include.  Especially as the format is not by type of dish – starter, main, dessert etc – but by region.
It starts with Comfort Food from the Mountains – the two main ranges being the Alps and the Appenines.  I love the way they've included food from bordering countries that has influenced Italian food.  It reminded me a little of the recipes in Diana Henry's Roast Figs Sugar Snow.  Recipes such as Eisacktaler Weinsuppe (Beef and Wine Soup) and Fonduta Valdostana con Tartufo (Fontina Cheese Fondue with Truffles) have obvious links to the Swiss and Austrian borders but it was nice to see the Italian adaption.
This also includes food influenced by the many forests in the mountain valleys including mushroom dishes like Schwammerlsuppe (Chanterelle Soup) and Funghi Impanati e Fritti (Fried Porcini Mushrooms).  Chestnut trees are apparently acommon sight all over North Italy and Gennaro's Gnocchi di Castagne con Burro e Salvia (Chestnut Gnocchi with Sage and Butter Sauce) was one I had to try.  I couldn't find any chestnut flour – even in our local Italian deli so I substituted some of the potatoes.  We also found the sage butter a little rich so added juice and zest of a whole lemon and some thyme.
I also made the chestnut jam. Not with fresh chestnuts but the tinned purée version.  It's a lovely alternative to fruit jam and tasted great on Sourdough.
Incidentally I love the dialogue between the two throughout the book and on each recipe.  It took me back to my University days wondering at the way Italians can have a single word for a whole sentence in English.  Such as – 'Arrangiarsi' which means 'making the best of what you have' and is used to describe Pizzoccheri (Pasta and Potato Bake with Swiss Chard).  It looked just like the kind of leftover recipe you want on a cold and windy day.  I'd put Mascarpone all' Amaretto (Cream Cheese with Amaretto) in this category too because the recipe is really quite simply such crushed Amaretti Biscuits and Amaretto liqueur drizzled over a dollop of mascarpone. Brilliantly simple!
There's a lovely commentary page about the Lakes of Italy – Como, Maggiore, Garda and Lugano.  When I organised conferences long ago I was fortunate to stay at wonderful private villas such as Villa d'Este and the recipes brought back memories of the amazing meals I had.
They then move on to the Coast and there is a lot of it because Italy is almost entirely surrounded by seas – the Med, Adriatic, Tyrrhenian and Ionian.  In this section you'll find Mandilli di Seta (Silk Handkerchief Pasta with Pesto) which is characteristic of Liguria because this best basil grows there.  Also many, many seafood dishes like Fregola con Cozze (Sardinian Pasta with Mussels) which is a type of durum wheat pasta that looks like giant couscous, Tubetti con Vongole e Rucola (Tube pasta with Clams and Rocket) and Risotto con Gameretti e Fiori di Zucchini (Risotto with Prawns and Courgette Flowers.
I'll take a moment here to say how easy the recipes are to follow.  The ingredients are clearly laid out in the top right or left hand corner and the recipes are barely a few steps long.  I don't eat meat but I can see how it would be easy to adapt the meat with fish or a vegetable – like the lovely Orzotto con Spinaci e Macinato di Maiale (Pearl Barley with Spinach and Pork Mince) where you can simply leave out the pork or substitute with shrimps or peas for example.
More seafood is covered in the Islands section with the simple and healthy dishes I remember from my honeymoon in Sicily.  We can't wait to try some of these on the barbecue as the weather warms up – such as Branzino agli Agrumi (Sea Bass with Citrus Fruit) and Insalata di Tonno Con Cipolle di Tropea (warm Tuna Salad with Sweet Red Onions) with a charcoal seared tuna steak.
Finally you have the Larder of the Rivers and Plains covering the River Po and the rice grown here.  My daughter Amber was keen to try recipes from this section as she has just done a homework project on this river.  She liked the look of the Risotto alla Zucca (Pumpkin Risotto) but  opted to use thyme and rocket instead of pumkpin so I guess her version would be called Risotta al Timo e Rucola!
Rome is also covered in this last part where you'll find lots of lovely side dish recipes like Broccoletti Strascinati (Braised Broccoli) which is traditionally cooked in lard but we used olive oil.
We had this with Orata all Pugliese (Baked Fish with Potatoes) and it was a lovely combination.
There is no shortage of desserts and other sweet recipes in this book.  There are ice creams and granitas like Gelato ai Lamponi e Limone (Raspberry and Lemon Ice Cream) and Granita di Gelsi (Mulberry Granita) to wondrous cakes such as Torta di Noccile (Hazelnut Cake) and Torta di Riso al Profumod'Arancio (Orange Rice Cake). I loved the latter.  It was like a rice pudding in sliced cake form.  Instead of orange I made a Lime and Coconut version using coconut milk and lime zest.  Easy and filling.
I think this is a wondrous book and would like to thank the publishers for sending it to me to review.  It's going to take pride of place on the kitchen bookshelf for me and Amber.  We have post it notes on the recipes we have left to try (pretty much each page!).
Book details
Hardcover published by Quadrille Publishing; ISBN: 978-1-84949-109-9:
RRP£20 though it's only £9.80 at the time of writing on Amazon
Author's details
These two are on Twitter and they tweet regularly.  I got a lovely "Looks good" from Gennaro for my Rice Cake picture. Whether it was him, his PA or his PR, I don't care. It made my day!
Gennaro is @gennarocontaldo and he also has a website: http://www.gennarocontaldo.com/
Antonio is @CookCarluccio and his website is  http://www.antonio-carluccio.com/
The recipes from the TV show are on the BBC food website.  I've also blogged my version of their lovely rice cake – Lime and Coconut Rice Cake if you want to give those flavours a try and the Chestnut Gnocchi I made with cooked chestnuts instead of chestnut flour.