The author of this book, Michael Paul, sums up exactly how I feel about Paris – "The more I roamed the streets, the greater my passion for the pastries, chocolates and desserts of Paris became."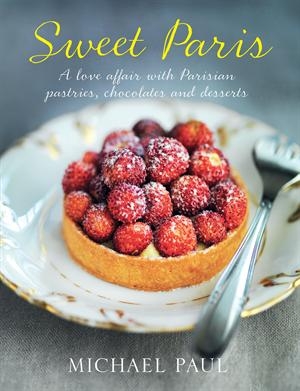 I love gawping through the windows of patisseries as much as wandering around the Louvre and this book brings back all of the memories – Memories of the beautiful food and the city itself.
Michael is a photographer based in London covering food, lifestyle and interiors this book was written and photographed by him.  Amazing and aspirational.
There is a very detailed introduction about his love of Paris which started, like most us – long before he ever visited.  He seems to have photographed every corner and eaten at every patisserie.  There are many locations suggested throughout the book which makes this a good travel guide too.
Chocolate is the first area of focus covering bars and bonbons (filled chocolates) with a lovely simple recipe for Chocolate Truffles.
He moves on to fashion which of course Paris is synonymous with and this is where we find the Macarons.  I tried his Mocha Macarons recipe cautiously and with a sceptical approach as I've never found the French meringue method to ever work for me.  I was pleasantly surprised with the results.   He's clear;y a fan of Pierre Herme as there is a lovely write up about him as well as some gorgeous images of his 'work'.
Cupcakes next with a lovely recipe for Chocolate Cupcakes with Rose Marshmallow Topping.  This didn't strike me as particularly French but I did like the fact that he's given a brownie mixture for these as well as a decadent looking recipe for French style Chocolate Chip Brownies.
I loved his write up of Guimauve – marshmallows.  It took me right back to a little patisserie I used to save up to visit when I was a student in Aix-en-Provence.  These are apparently trending is Paris with flavours such as matcha green tea, saffron and chilli alongside cassis and dark chocolate.
This book also reads like a history book.  He writes about origins and best places for the Eclair, Millefeuilles, le Gateau de l'Opera, Baba au Rhum, Gateau St. Honore and of course the Mont Blanc.  Who knew the first dated mention of the latter goes back to 1475?
Moving on to tarts, he gives his versions of the classic Tarte aux Fraises and Tarte au Citron.  I really liked his version because he makes a curd mixture first.  I added one more lemon though as we like ours very zingy!
I don't think this book would be complete without a chapter on the wonderful Viennese influenced pastries and breads – Viennoiserie where you'll find recipes for Brioche, Financiers and Chausson aux Pommes as well as for Madelines which we made with my Mother's Day present (a madeline baking tray) with the addition of cardamom into the mixture.
There is a chapter dedicated to decadent desserts which includes Tarte au Chocolat, traditional Tarte Tatin, Mousse au Chocolat and super simple Creme Brulee. 
Some of the best ice creams I've ever had were in Paris so I was really pleased to see his versions of French style Glace as well as Sorbet.
The final chapter is on confectionery with images that make you want to lick the page. There is a wondrous looking recipe for French style salted caramels – the best in my view.  Have been waiting for our next dinner party to try these as I'm too scared I'll eat them all by myself otherwise.
There is a lot of thought behind this book. It ends with a step by step Pate Sucre which I followed but to be honest I really needed more liquid so he must have used massive egg yolks.  I still prefer to make mine in a processor so not sure what he'd make of that!  It also has an easy reference address book at the back with addresses and more commentary on the places he has mentioned throughout the book.
In a nutshell, this book is truly a work of art that exudes Paris.
Book details
Hardcover: ISBN: 9781742701868 : £20
Published by Hardie Grant
Michael Paul has the most drool worthy website – you have to take to a look but wait til you're not hungry.