Today is Raksha Bandan.  A day for celebrating relationships and connections between brothers and sisters.  Brothers and sisters will pray for each other and bestow wishes of good fortune and safety.
How did it all come about?
In order to protect the people, my favourite of all the Hindu Gods, Lord Krishna killed the evil King Shishupal. Lord Krishna was however left with a bleeding finger. His devoted and beloved friend Draupadi saw this and in floods of tears, ripped a piece of her saree off and tied it around his wrist to help stop the bleeding.  Lord Krishna was deeply moved by her sisterly love.  He vowed to repay her love with his protection whenever she was in need.  And so this 'bond of loyalty and protection' came to be known as Raksha Bandan.
Modern day festivities are more ornate
Nowadays sarees are not torn. Instead ornate and colourful  'rakhis' are sold on every street corner.
The sister also prepares a 'pooja thali' – a celebratory prayer dish with red powder called 'kanku', the 'rakhi' and some 'mithai' or sweets.
The sister uses 'kanku' to put a 'tika' on her brother's forehead as she prays for his protection and wellbeing.  This is similar to the colourful 'bindi' she herself may wear.  She then ties her 'rakhi' around his wrist and finally stuffs him full of his favourite 'mithai'!  Brothers often give gifts to show their thanks for this love and protection.
Make your own rakhi and mithai
I'm not a big fan of the ornate rakhi and then to make my own simple ones using friendship bracelet kits.  My daughters are old enough this year to have a go too.  We use these basic friendship bracelet styles with maybe some gold or silver threads and beads on the end.
[youtube http://www.youtube.com/watch?v=Z2o7Oom7OCg]
For 'mithai', we like to make 'barfi'.  These are little milk powder based sweets that are super easy to make.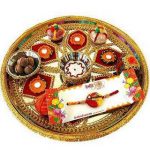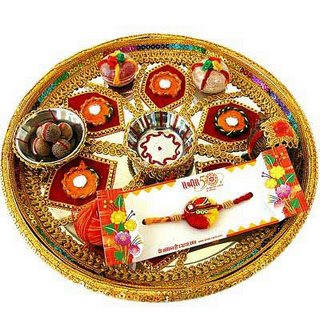 Print Recipe
Barfi
Notes
450ml cold water
125g ghee
500g full fat milk powder
150g dessicated or freshly grated coconut
160g caster sugar
one tsp ground cardamom
70 g chopped pistachios
Vegetable oil for greasing
A bar of good quality dark chocolate – 80% cocoa solids
TO MAKE THEM
Line a baking tray with greaseproof paper and set aside.
Put the milk powder and dessicated coconut into a large bowl and set aside.
Heat the 200ml of water and 100g of ghee until the liquid is boiling.
Pour onto the milk powder and mix it together really well.  It will be a bit lumpy but it doesn't matter.
Put another 250ml of water into a pan and then add to this the remaining 25g of ghee, sugar and ground cardamom.
Heat this til the sugar has dissolved and then add the milk powder mixture .
Mix and stir this well over a high heat for a couple of minutes to cook out.  Do not let it catch at the bottom of the pan otherwise it will brown.
Pour this onto a plate and while it's still soft but comfortable to touch, break off a little piece, roll it into a ball and set to cool completely on the prepared baking tray.
Do this until all the mixture is used up.
Once the little spheres are cool you can coat them in chocolate.
Melt the chocolate at 30 second intervals in a microwave or in a heatproof bowl over a pan of boiling water.
Dip into it one of the spheres. I use a cocktail stick.
Place the sphere back onto the baking tray and sprinkle over some chopped pistachios or dessicated coconut.  You could also use chocolate sprinkles or  walnuts – whatever you fancy I suppose!
Repeat for the rest of the spheres and leave the chocolate to set before eating.
Do you have a special day with your siblings? What does your culture do to celebrate the bond between brothers and sisters?