This book like the one that accompanied series two (which I took part in!) was written by Linda Collister with inputs from Paul Hollywood, Mary Berry and the contestants.
It's split into eight categories : Cakes, Biscuits, Breads and Sweet Dough, Tarts, Pies, Desserts, Puddings and The Basics.
Each section has a basic recipe and then three challenge recipes for you which are labelled 'easy', 'takes a little time' and 'need a little skill'.  I really like that because instantly you know how long it's going to take you and how you can progress to something more difficult.
After that each section has a selection of recipes suited to all skill levels.  There are lots of simple tips on most pages such as 'If you don't have time to make frosting, keep it simple and dust with cocoa or icing sugar.
As the series hasn't started yet, I'm really excited looking through the best of bake off bakes.  It'll be interesting to see who the bake belongs to as the episodes go on.  My ultimate favourite contestant recipe was the Lychee and Raspberry Tart.  Great combo of flavours with my favourite of rose in there too.  Not had a chance to make this one yet.  It calls for a really special occasion I think!
I had some friends over for a lazy Sunday this weekend so I made the Honey Madelines as a little something to go with a cuppa tea when they arrived.  I loved the recipe.  It took hardly any time in my KitchenAid but if you are attempting it manually, do be prepared to put in some elbow grease!
I also made the Pistachio Salambos which are little choux pastry balls filled with orange cream and sprinkled over with pistachios. They were crispy on the day I made them but absolutely perfect the following day when they'd dried out even more.  I dipped them in white chocolate rather than caramel.
Scattered throughout the book are 'Showstopping Techniques' which include how to do spun sugar, crimping and decorating with pastry for pies, piping meringue swirls and making chocolate leaves for example.
Finally right at the back there is a brilliant reference section with recipes for icings and fillings such as chantilly cream and lemon curd and sauces such as beurre blanc.  Some words of advice on stencils, sprays and glitters.  I liked the addition of advice on using edible flowers.
An app to accompany the books
What's new this year is that there is an iphone app.  It's expensive at £2.99 but there are some interesting features like touch free instructions and the ability to take a photo of the recipe you've made and share it.  The recipes are from series two and three from what I can see.  I hope they get around to putting them all on there.  I'd quite like to see mine in an app. It'll be another of my 40 new things!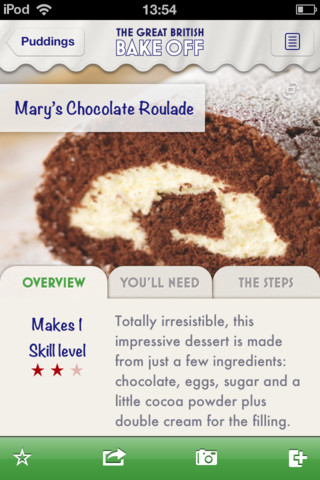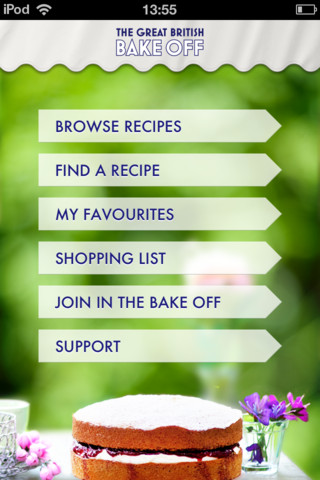 Overall, I loved the book.  I can see many favourite bakes for a rainy day and a more showstopper occasion. Book details Hardcover: ISBN: 978-1-849-90463-6: £20 Published by Ebury Publishing