I had been given some lovely cooking apples and Kentish cobnuts so could not resist the combo with some cinnamon. I loved the crisp filo pastry with the soft frangipane middle.
This tart is inspired by Eric Lanlard as there is a similar one in his Tart It Up book.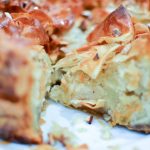 Print Recipe
Apple, cobnut and Honey Tart
Notes
You'll need
125g soft unsalted butter
150g additional unsalted butter for melting
125g caster sugar
120g finely ground cobnuts
3 large eggs
1tsp Neilssen Massey Vanilla Bean Paste (extract is just not the same)
1 tsp ground cinnamon
1 pack of shop bought filo pastry
5 large cooking apples
75g brown sugar
3 tbsp honey
Handful of cobnuts for sprinkling on top
To make it
First make the apple filling by peeling and coring the apples and then chopping them into largish chunks.
Pop these into a pan with a tablespoon of water, cover and leave to cook for a few minutes only. You want them to be just tender and not completely mushy.
Leave to one side to cool.
For the frangipane filling, Beat the eggs and set aside.
Cream the butter and sugar until it's light and fluffy.
Beat in the ground cobnuts and then add the beaten egg a little at a time until it's all used up. I simply leave the KitchenAid on setting 3 and do this over ten minutes or so.
Finally beat in the vanilla paste and half teaspoon ground cinnamon.
At this stage put the oven on to preheat at 180C and melt the 150g butter.
Line a deep 20-22cm baking tin with the melted butter, then line it with some grease proof paper and set aside.
Fold out the filo pastry and brush the first layer with melted butter.
Line the baking tin with it and let it flop of the sides.
Give the tin a quarter turn clockwise and do this again with four more sheets of filo.
Spoon the frangipane mixture onto the base and then spoon the apples on top of that. Try to get just the apple pieces and not the liquid.
Sprinkle the sugar and remaining cinnamon over the top.
Fold the pieces of pastry hanging over the sides of the tin over the apple and frangipani mixture - scrunchy is a good look.
Butter any filo you have left over and scrunch it over the top.
Bake for 45 minutes. The top should be golden brown and a skewer should come out clean.
While it's baking, chop the handful of cobnuts and lightly toast them in a frying pan.
When the cake comes out of the oven, drizzle over the honey and toasted cobnuts.
I served this with some cinnamon flavoured creme fraiche. I would recommend eating it all warm as it didn't taste nice cold.
Have you ever used cobnuts? Please share your recipes