Eric Lanlard has become a true baking celebrity with so many TV programmes and appearances to his name. I had the honour of meeting him recently and was really rather surprised at how down to earth he is. And I say honour because there is some proper talent and experience behind that sparkling, cheeky personality! Read my full interview.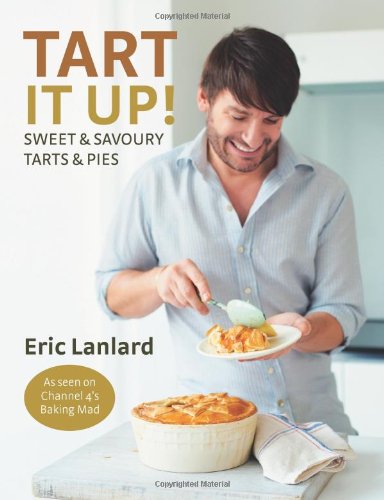 This book really caught my eye because it's all about pastry which is something I am pretty new too. In fact before doing The Great British Bake Off I had probably only attempted it a dozen or so times but I have become rather hooked.
Eric's book starts with a memory back to his training ground of Le Grand Patisserie in Quimper where he spent six months learning how to make pastry and a further six how to use pastry. This book is a collection of his favourites both sweet and savoury.
The first section covers pastry basics as you would expect – shortcrust, sweetcrust, almond and chocolate shortcrust followed by brioche and puff.
His savoury section encompasses all the seasons from the Spring Garden Green Tart to the Summer Vegetable Pie and an autumnal Butternut Squash and Mushroom Pie. That raises a good point. Not all the recipes use pastry. For example his Seafood Pie is like a traditional English Fish Pie but the mashed potato is replaced with scalloped potatoes. He also has a mini Scallop and Courgette Crumble Pie which uses a simple herby crumble topping. I have earmarked this one as a dinner parter starter as soon as I find some of the lovely mini copper pans he uses!
The book has a nice mix of international recipes sitting alongside traditional French favourites like his Proper Quiche Lorraine. There is a Curried Chicken Tart, an Iberian Chicken Pie and an inspiring Miso Cod in Brioche Pie.
There are some nice detailed step by step pages for the more complex recipes like his Calzone and Heritage Tomato Tart Tatin as well as a quick bakes and accompaniments summary covering side dishes like Green Beans with Shallots, Fig Chutney and Tabouleh Salad.
The sweet section kicks off with an Apricot, Honey and Pistachio Tart using fill pastry which inspired my Apple and Cobnut version. It was a really nice way of using frangipane with filo.
As you would expect there are some spectacular bakes in this book which photographer Kate Whitaker captures divinely. The most stunning in my view is the West Indies Chocolate Tart. I think this will adorn our Christmas table this year!
Another is the Strawberry Tart Royale – a layer of puff pastry topped with cream, caramelised bananas and strawberries.
I love his unusual flavour combinations too. Matcha and Yuzu Tart, Apricot and Saffron, Mango and Green Peppercorn and Chocolate and Earl Grey Tarts with Figs.
There are some simple classics too like the Blueberry Amandine Tarts which we made, Tarte au Citron, Pecan Pie and Bread and Butter Pudding.
All in all this is a well thought through book for someone just starting to bake with pastry and those with a bit more experience who want to try something dazzling.
Book details
Hardcover: ISBN: 978-1845337193 : Circa £11 on Amazon
Published by Mitchell Beazley
Eric's details 
Twitter: @eric_lanlard