It was my birthday yesterday and I wanted to celebrate but also do something completely different.  Friends suggested various bars and restaurants but to be honest I really didn't want a big night out.  I thought about the theatre but there isn't anything that I feel compelled to see.  This year I just wanted a nice quiet evening with my husband.  An evening to reflect and talk about nothing in particular   Don't get many of those evenings nowadays.  We also don't get a chance to do many foodie things together, so I was really pleased that the fabulous Clifton Nurseries in London's Maida Vale were hosting a talk with one of my favourite gardeners – James Wong.
A young, energetic and realistic gardening inspiration
James is a Kew-trained botanist.  I first came across him on the BBC. He presented an award winning show called Grow Your Own Drugs.  It was brilliant and tied in so well with much of what this blog is about – understanding food and understanding what different botanicals are good for.   I've followed his blog on and off since then and have always been inspired by his passion for growing stuff.
Until yesterday I really thought that he had an army of helpers growing all sorts of different things for him and not the small garden his books and bios boast about.  James has a 5 metre square garden in London.  He has no greenhouse. He has grown and tested everything he talked to us about and this came through vividly as he talked.
Growing British Classics
James talked us through Great British Classics.
Each plant he mentioned started with a very British personality.  Let's take Winston Churchill as an example. According to James, "Winston Churchill had plans to cover large areas of South West England in tea estates, as he believed that if our war-time tea supplies were ever cut off we simply couldn't have won!  The only reason why this never actually happened was simply because the war ended before the plantations were ever planted – no kidding!"
What he said really made sense.  Tea needs a cool, wet climate. Britain is of course perfect and the drink is only one of the many uses of this plant.  the whole leaf is edible and why not use those lovely shoots in salads or sandwiches? Why not indeed!
He also talked about Queen Victoria and her penchant for Chilean Guavas which are plants hardy down to minus 10 degrees and could be used as substitutes for box hedges, Mrs Beeton and her love of Inca Berries or Physallis…
He talked about growing gojiberries in compost bins, mushrooms in old BT phone books and sweet micro greens from popcorn.
Is it worth growing one swede for £200? 
Most importantly, James talked about what not to grow – in his opinion – because it simply wasn't worth the effort financially.  He cited the example of his friend Nathan – an urban foodie with the Hunter wellies, the designer seed packets and an allotment which he drives to.  All the gear and clearly no idea! Like most of us who watch gardening shows on and off and think it's easy to be like Tom and Barbara Good.
But add up all those potato bags, sticks, compost and hours of labour.  Is it really worth growing the basics like potatoes and swede when these can be sourced from British Farmers at reasonable prices in abundance? Why not rather grow the botanicals which cost more in British supermarkets because they are having to be sourced from overseas – cutting your spend and the Earth's fuel costs in one go.  I'd never thought about it before but it makes total sense.
Take wasabi for example. I love wasabi.  I don't mean the disgusting green stuff you get with sushi, which contains mostly horseradish, mustard and artificial colourings, but the wonderful root that I knew from my time living in Japan that was slightly sweet on the tongue.
Well wasabi plants apparently love cool, wet and overcast climates.  A bit like my Frittillaria, they'd then be perfect in my little shady, damp spot just outside the back door!
Captivated and inspired to start my own Homegrown Revolution
It was revelations like this that captured my interest for the entire two hour talk.    James was kind enough to sign his book for me at the end and we had a little chat about baking too – Baking and Great British Bake Off fans may remember him in Celebrity Bake Off last year.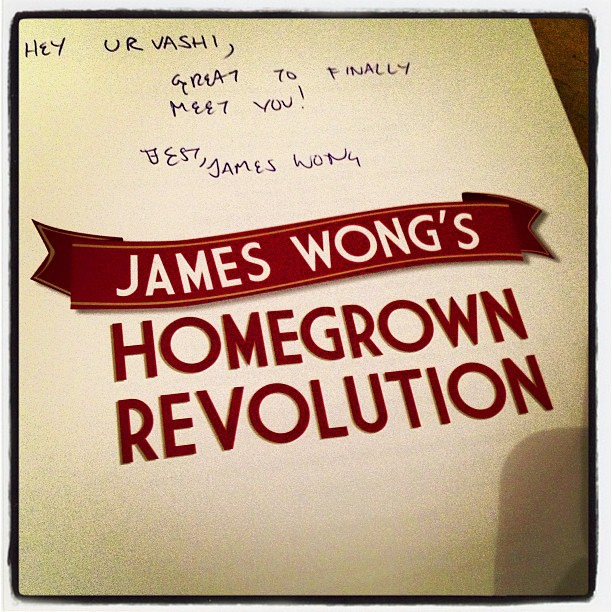 His book exudes his enthusiasm for his craft.  I'll do a full review once I've had a go at some of the projects but so far I love the clear explanations, the information about plant origins and nutrition and the snippets of recipes that sit alongside detailed (but not boring) growing instructions.
It was a lovely start to my botanical birthday and was complimented by great botanical Gin Infusions and Saffron Champagne Cocktails.   Thank you to James and Clifton Nurseries for a wonderful evening.
Disclaimer – I attended this event on my own initiative and paid for my ticket which was a very reasonable £5.  I chose to write about this and have not been paid or requested by James or Clifton Nurseries to do so.  
Related articles