You know when you get a batch of apricots that are a little too tart to eat raw? Well those are the ones which are perfect for this recipe!  It's a really moist loaf and the crumbly topping adds a nice little crunch.  Allow yourself time for this recipe as it takes minutes to make but an hour to bake.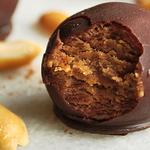 Print Recipe
AApricot Loaf Cake
Notes
You'll need
For the topping
25g soft unsalted butter

25g caster sugar
25g plain flour
For the loaf
A 1lb loaf tin 

250g apricots (weight after stones removed so about 10-12)
75g unsalted butter
200g self raising flour
1/2 tsp bicarbonate of soad
65g soft brown sugar
65g caster sugar
160ml milk
1 egg
2 tsp vanilla essence
2 tbsp maple syrup (plus a little more for drizzling)
To make it
Preheat the oven to 180C and grease and line your loaf tin 

Rub all the topping ingredients together until you have breadcrumbs and then set aside.
Chop the apricots into small pieces - approx 2 cm chunks - and set aside
Melt the butter and set aside to cool
Mix the flour, bicarbonate of soda and sugars together.
Toss the apricots in to this dry mixture and stir them in evenly.  Make sure each piece is covered in flour otherwise it will sink to the bottom when baking.
Mix the milk, egg and vanilla essence together.
Pour in the cooled butter and lightly whisk til well mixed.
Pour the liquid mixture over the flour and apricot mixture and mix very lightly and gently with a fork. Do not beat. Just lift through with a fork til it's barely mixed.
Pour the mixture into the lined loaf tin and spoon over the maple syrup.
Now spoon over the crumble mixture and then bake for about an hour.  A skewer inserted should come our clean.
Leave to cool in the tin and then transfer to a wire rack to cool completely
Drizzle over a little more maple syrup before serving
I rather like this warm so it gets eaten almost as soon as it's cool enough.  It works well with a dollop of maple ice cream if you are feeling decadent.  If you are feeling more virtuous, have it with a little thick yoghurt instead for breakfast.
Related articles