The Amalfi coast is one of Italy's most magical places.  Sun drenched and scenic but surprisingly laid back.  This book exudes the classic Italian style that is this region.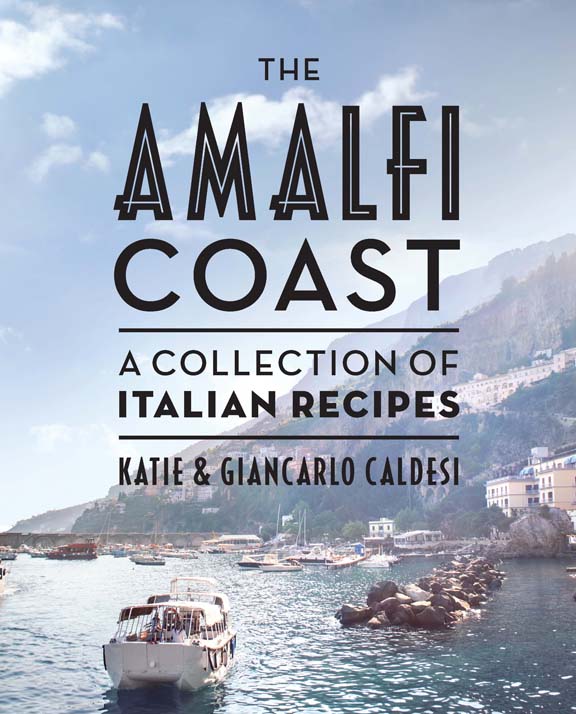 Katie and Giancarlo Caldesi have travelled across the Amalfi Coast in search of recipes that define the area.  This is their fourth book and my first.
A little history
I love books that start with a little history.  I hadn't realised that trading dated back as far as the 6th Century.  Amalfi had its own currency at that time while the rest of Italy was working on a barter system. There are Turkish and Spanish influences as a result of the various attacks and takeovers.
Antipasti
Like most Italian cookbooks, this one starts with antipasti. Anchovies play a large part on the Amalfi coast and so there are many wonderful ideas of how to use this neglected fish – Stuffed Anchovies, Fried Anchovies, Marinated anchovies.  The Spanish influence comes through with the Smoked Cheese and Potato Croquettes.  and sometimes you need to be reminded to make the simplest of dishes such as Insalata Caprese – our beloved Tomato and Mozzarella Salad.  I could not believe there is a recipe for this simple meal but it's a nice way to honour one of the most famous plates from the island of Capri. I rather liked the Fiori di Zucca Ripeni – Stuff Courgette Flowers as they reminded me of our trip to Italy last year.
Soups
I was surprised to see so many soups because I do associate the Amalfi coast with 'sunshine' food not hot, warming soups.  But there is so much inspiration for soups of the sea and I tried the Zuppa con Fagioli e Cozze – Cannellini Bean and Mussel Soup.  It was simple to make and unlike other processes I had followed for mussels before.   A slow cooked broth bringing the beans to tender and then a quick cook of the mussels separately with white wine to then pour in.  I quite liked the idea of this two stage process.  Prepare some food but adding fresh last minute flourishes which transform the meal into a more interesting one.  Very much how I like to cook.
Bread and Pizza
Now I must admit I have a tried and tested pizza recipe which is an adapted version of Delia's and I also am rather in love with Richard Bertinet's style of making focaccia so I was going to skip this chapter.  There's a large explanation of how to make good pizza dough and suggestions for toppings which was a little basic for us as 'Pizza Saturdays' are a regular feature in our house.  But I did like the look of the fat Calzone so we gave that a go.  When I have eaten this in restaurants the tomato is inside and there is much sogginess.  The recipe in this books drizzles the tomato sauce over the top after baking so you end up with a wonderfully crunchy calzone with a sauce on the side meaning no soggy bottoms!
Risotto and pasta
I was also surprised to see this section as risotto is a Northern Italian dish but the book does it justice starting with two great recipes for stock.  The recipes are inspired by seafood – Lemon and Prawn Risotto which is already a staple in our home, Seafood Risotto.  One I would like to try still is the Smoked Cheese and Prosecco Risotto.
As you would expect, there is a large section on pasta and I wasn't sure what more I could learn that I hadn't already seen in other Italian cookbooks.  There are some nice recipes for quick sauces such as Anchovy Pesto and Sauce, Canned Tomato and Fresh Tomato Sauces – an the longer slow cooked Ragu.  I liked the method for making Fusilli as we haven't tried that one and the girls were excited to give it a go and I also liked the idea of gnocchi using ricotta so that's on the list too.
Fish
The best section to evoke memories of my student travels.  Amalfi was where I first tried so many fish and to be honest at the time I didn't like it much. It was too fishy.  But reviewing the recipes for Sea Bass in Salt, Simple GrilledFish, Calamari and Peppered Mussels really made me salivate and long to be back there.
Dolci
Katie's view is that Sicily and Campania have to take first and second places for Italian patisserie.  I was hoping for a recipe for the Sfogliatelle Santa Rosa but sadly there wasn't one.  These are the little multi layered crescents.  There are however some wonderful recipes using the Pan Di Spagna sponge cake mix.  I wanted to try the Lemon Domes filled with Lemon Cream but I am going to save these for Amalfi lemon season.  I tried the Pear and Ricotta Tart which was more of a cake than a tart but so light and fragrant and very easy to make.
You use a lot of egg whites in the baking recipes so it was nice to see ice cream recipes that used the yolks up.
And to end with more lemons, there is a wonderful recipe for Lemon Marmalade which Grandma Sue adapted and made in her microwave in 40 minutes! Perhaps we should share that one with Katie and Giancarlo and see what they think! I want to make it the way it is outlined in the book which is a slow two hour simmer.  I want the smell of lemons and the smell of summer to fill my house!
Finally I was introduced to some cheeses of the region which I shall go and hunt down at La Fromagerie in London.  Again in my student days, I was not a fan of the cheese. It was smelly and soft.  But now when I go back I want to hunt down the Scamorza as I imagine I'd eat bucket loads with some good Amalfi olive oil!
If you'd like to try some of the recipes in this book, Katie and Giancarlo are holding a special dinner on 20 April 2013 at their restaurant in London Marylebone.  The menu looks stunning!  You'll also be able to get a signed copy of the book.
Book details
ISBN: 978-174270554-5 : £25 Hardback (but £16 on Amazon when I last looked)
Katie and GianCarlo are on Caldesi on Twitter @KatieCaldesi  @MrCaldesi