I never thought I would accept an offer to review a book which is essentially from a steakhouse – one in Australia to boot.  I was assured that there would be lots of veggie dishes and fish based food and indeed there is.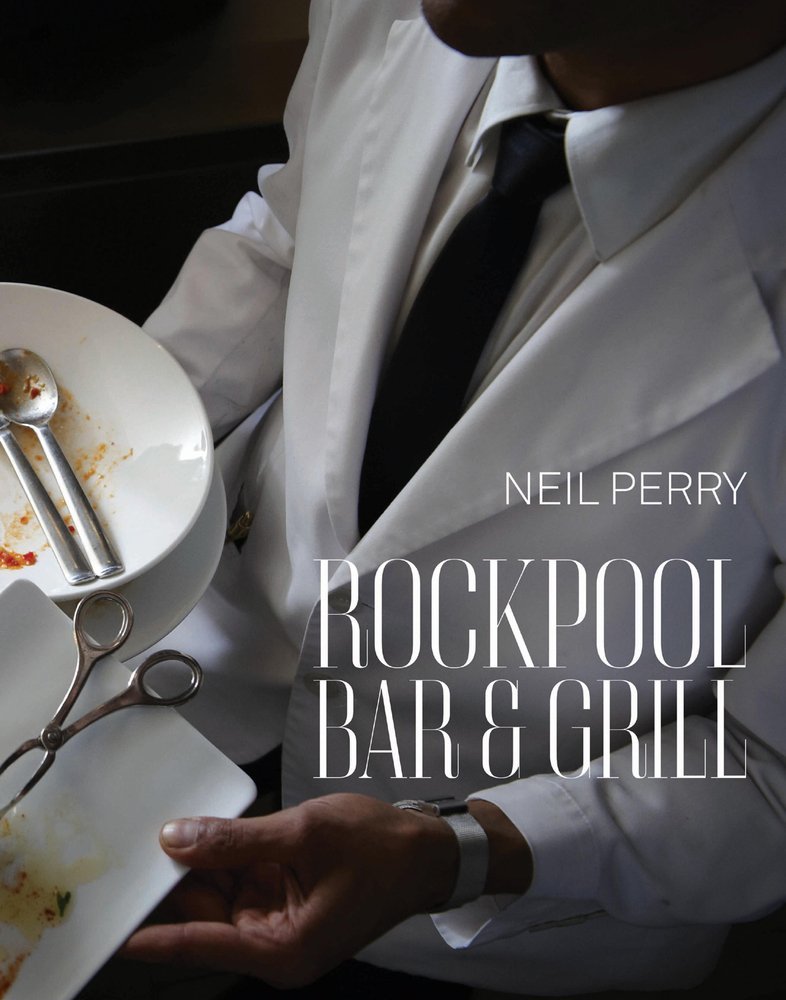 It's written by Neil Perry who shares his trials and tribulations of opening his restaurant, Rockpool Bar & Grill.  Neil is pretty well known in Australia as he now has a few restaurants around the country.  He also provides food consultancy to Quantas Airways for First and Business Class travellers.   I always find this rather strange. If you're going to improve food on a plane. Improve it for all of us or give us the option to pay for the food only (vs bigger seats etc which I'm not fussed about).  I would gladly pay a little more for decent inflight food – especially if it was close in calibre to the dishes in this book.
That aside, I did rather like this book.  It's as much about the life of a restaurant and all the people who are involved in the day to day elements to put a dish in front of you.  So there are stories from the restaurant and stories of the suppliers that are woven in to the recipe chapters – Pugs the fisherman who brings the mussels, Reevso who brings the clams etc. I think this is a lovely way to show the values of the restaurant and food ethics that are evidently very high.
On top of these, you will also find lots of cheffy how to advice – how to handle seafood – there is a comprehensive page on just scallops for example which leads on to a recipe for Queen Scallops with Preserved Lemon and Harissa which I would like to try.  It's pretty blunt in places though – How to kill a lobster is another page. I've never heard that term before so it was a bit of a shocker when I turned the page.  prepared might have been a bit consumer friendlier but it was informative nonetheless.  
There is a large salad chapter as Neil explains they are central to the bar an grill concept.  One key tip I hadn't though about before was to dry salad leaves well as they dilute the dressing if too wet. Of course they do.  So obvious and it's something I do all the time! I made the Beetroot, Mache and Feta Salad with Pistachio Dressing.  I rather liked the challenge of preparing a cheffy salad with some beetroot jelly as part of the assembly.  All the salads are similar to this.  The title suggests a straightforward recipe but there's mostly an element of work you'd only get in a restaurant and this was interesting to read.   I also liked the combinations – Prawn, Nectarine and Hazelnut Salad for example.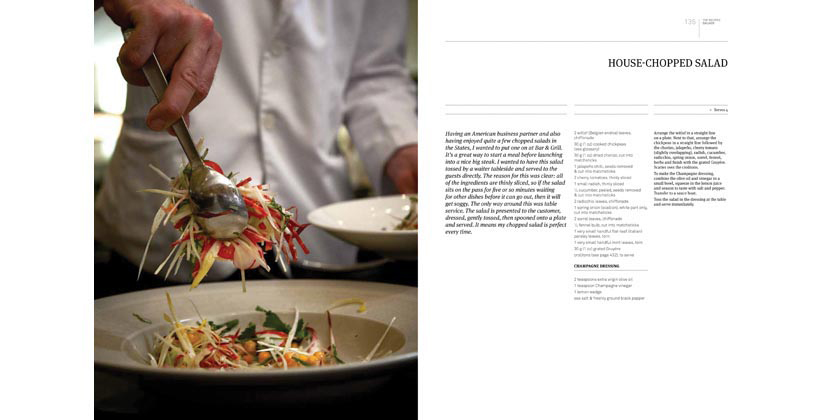 Sandwiches are a big chapter with some nice ideas such as Artichoke and Mushroom Bruschetta, Sardines with Chilli on Bruschetta and Grilled Asparagus with Tomato, Ricotta and Basil. 
One of my favourite chapters was the pasta chapter.  Octopus Braised in Red Wine with Tomato, Olives and Saffron Papardelle, Crab with Roasted Tomatoes and Semolina Noodles coated in Prawn Oil. I am pretty good at making pasta so I rather liked the complexity of these dishes – most go over two pages in explanation.
The mains section covers a lot of seafood from Classic Lobster Thermidor to a more complex Seafood Stew with Mussel and Saffron Broth.  Completely vegetarian dishes are few and far between. I liked the idea of Lentil and Ricotta Moussaka but the numerous steps on this one put me off making it.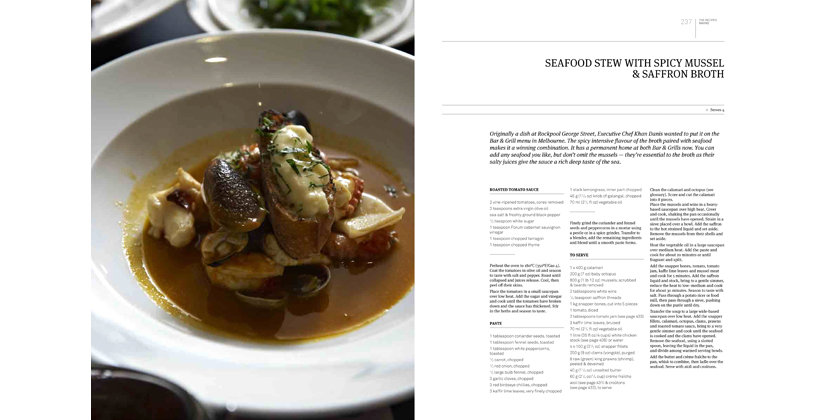 One element of the book I loved was the flavoured butters.  As Neil advises, it's a great way to get flavour onto a simple grilled fish.  You can find simple techniques for Anchovy Butter, Red Wine Butter and Herb Butter – all of which would complement steamed veg too. This works well with the section on Basics covering Tomato Jelly, Sundried Tomatoes, Gremolata, Mayonnaise, Preserved Lemons to name a few.
And finally desserts.  Not an awful lot of recipes here but some nice classics like Lemon Meringue Cupcakes, Summer Fruit Tart and then a few cheffy ideas like Strawberry Tart with Balsamic Vinegar Ice Cream and Passionfruit Marshmallows.
All in all, this is a beautifully photographed cookbook and restaurant autobiography but it's not for the amateur cook. But if like me, you fancy being fancy every now and then you'll find clear, well thought out recipes to push your skills. 
Book details
Hardcover: ISBN: 978-1741968293 : Circa £24 on Amazon
Follow Neil on Twitter: @rockpoolgroup
Thank you to Quantas and Neil Perry for my signed copy.  It's nice to see that as well as flights to Australia, they are keen to put Australian people and food on the map.  Makes me want to visit for the food scene alone.  Sigh…Maybe next year ….