We didn't plant any nasturtiums at all this year.  Totally forgot. But the beautiful blooms have come up all on their own in the same place and randomly across the patch.  They seem to know what needs company as a little bloom appeared right next to the Firestorm Runner Beans last week and a little sprout is up near the lonesome broccoli.
A superfood status 
Last year I wrote how they should attain superfood status for all their virtues and uses raw in pesto and salads.  This year I have been experimenting with it in cooked form as we really have so much I cannot bear to throw any of the leaves away.  It's pretty great as a spinach substitute in curries.  Just chop and add it in right at the end of cooking.  The steam just wilts the leaves and it retains the watercressy flavour.  I've also added it finely chopped to a basic bread dough mix with some nice results.  Was great toasted with cream cheese. Use this recipe for my spinach version and swap out the spinach for nasturtium leaves.
Some Noquis or Nhoque to celebrate the end of the month with the South Americans 
I've been doing some writing for GB Chefs lately and throughout the course of my research  I found a really interesting story about a traditional dish from Uruguay which stems from the immigrant Italian population.  It is eaten every month, on the 29th to be precise, and is called Noquis.  The same tradition is followed in Brazil and is called Nhoque da Sorte or 'Lucky Nhoque' but both are served with some notes or coins under the plate. This is said to bring prosperity for the month ahead. Noquis or Nhoque are the little dumpling the Italians call Gnocchi. I decided to use my nasturtiums in the dough.  If you don't have nasturtiums, you could use watercress or spinach instead.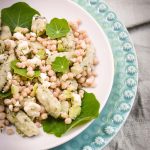 Print Recipe
Nasturtium Noquis/Nhoque da Sorte
Notes
You'll need
1 kg floury potatoes like maris piper or desiree
1 heaped tsp salt
25-30 nasturtium leaves - approx 250g (or spinach/watercress)
350g '00' grade pasta flour
Half cup fine semolina
Extra virgin olive oil for drizzling
Parmesan cheese for grating
To make it
Peel and chop the potatoes into 2 inch chunks and then boil them til they are soft.
While the potatoes are boiling pop the nasturtium leaves into a colander.
Use the hot water from the boiled potatoes to wilt it, drain off the water and then whizz it into a puree in a food processer.
Mash the potatoes and then mix in the pureed nasturtiums.
Add the salt and pasta flour til you get a smooth dough.   It should all come together with the liquid from the spinach but if you need more you can use the potato water.
Sprinkle some flour and the fine semolina over a clean work surface, take a ball of the dough and roll it into a long sausage shape about 1.5 – 2cm wide.  It doesn't matter how long as long as you have the right thickness.
Now using the long edge of a ruler, chop off 1cm chunks.  If you flick the ruler as you cut you will end up with one slightly longer edge to your chunk.  It doesn't really matter though what shape they are.  Just try to keep them around 1.5 cm as they will inflate slightly in the water.
You could then roll these over the tines of a fork to make little grooves but it doesn't really matter if you don't have the time like I usually don't!
When all your noquis are made, bring a pan of water to the boil and then pop in a batch at a time.  They should take approx. 2 minutes to cook and float to the surface.  when they are floating, take them out on to a platter with a slotted spoon.  They may stick together so you could drizzle some olive oil over each batch.
I served them simply with some herbs and grated parmesan.  You could toss them into some giant couscous and mix in some cubes of feta for a different way of enjoying them.
However you choose to enjoy them, don't forget to leave a few notes or coins under the plate.
I've entered this recipe into Tinned Tomatoes Pasta Please hosted at Hungry Healthy Happy this month and and also into Ren's Simple and In Season hosted by My Custard Pie 
Do you have any traditions involving money and food?