As a working mother I am always on the lookout for innovations in the food industry that will help me get a healthy evening meal on the table quickly.  30 minutes is usually my target timeframe.  I do not have an army of choppers, peelers, washer uppers and handy hangabout preparers so it all has to be done in that time, by me or I lose the window between the children being chirpy and overtired.  If you are a parent reading this you'll know that when children reach that overtired state it means an unsuccessful mealtime resulting in a stressful bath and bedtime routine.
My freezer is therefore always armed with portions of rice, grains, lentils, pulses – things that need soaking or take a long time to cook.  Having them prepared means I can simply defrost them and incorporate them quickly into meals.  But recently I was sent a selection of Clearspring's Quick Cook Grains and Pulses to try which claimed to need no soaking and be ready in just 10 minutes.
I tried the Rice and Quinoa Mix which is a 50-50 split of red quinoa and long grain brown rice. Indeed it did only take 10 minutes to cook. This is because all these products are pre-cooked using steam and hot air prior to packaging so cooking time is reduced by two thirds and all the nutritional value to maintained.  Very clever.
We paired this with some steamed broccoli and prawns for a really fast midweek supper.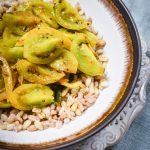 Print Recipe
Stir Fried Prawns and Broccoli with Clearspring Brown Rice and Quinoa
Notes
You'll need
125g (half a packet) Clearspring Rice and Quinoa Mix
2 tbsp pomegranate molasses
2 tsp ground cumin
1kg fresh broccoli spears
200g feta
2 tbsp olive oil

150g uncooked prawns

2 cloves of garlic

 - chopped

Salt to your taste
To make it
Bring two large pans of water to the boil, add the rice and quinoa mix to the first and cook for 10 minutes.  Add the broccoli to the other and cook for 8 minutes.
Drain the rice and quinoa mix and then add the pomegranate molasses, ground cumin and salt to your taste.  I used about 1 tsp table salt.
Chop the broccoli spears and then mix these in.
Crumble the feta over the top and mix this in.
Put the olive oil in a wok or frying pan over a medium heat, add the garlic and stir for a few seconds and then throw in the uncooked prawns.  Toss them in the garlic and oil for a few minutes.  They will go pink when cooked. Then mix them into the rice, quinoa and broccoli mix.
We served this hot on a bed of spinach leaves.
I also really enjoyed the 5 Grain mix which has a combination of emmer wheat, barley, long grain brown rice, kamut and wholegrain oats. I paired this with a Green Tomato and Onion Curry.  Again this took less than 30 minutes to prepare.
I'm looking forward to trying the Rice Trio, Millets Peas and Lentils Mix and the Grains and Pulses combo.  I think these are brilliant little mid week marvels and a staple in the storecupboard.  Not only are they fast but healthy and organic too.  A really clever innovation by the guys at Clearspring who I would like to thank for my free samples.
What is your 30 minute midweek marvel supper? Do you have any handy tips to share on getting dinner done in 30 minutes? 
Related articles