I was inspired to grow a little garlic after a visiting Mark at South West Garlic Farm last year.  My garlic will never be as good as his and I won't ever be planting the volume he does but I like the idea of my allotment being busy doing something over the winter.
A few tips on planting
It's a really good time to get planting now. I've cleared all my courgettes, the bulk of my sorrel and my runner beans and so I have a perfect patch of land, different to last year to plant.  It's in maximum sunlight over the winter months which is important and most importantly I have enough space to leave about six inches between each clove.  The chaps at the allotment hut told me to break the bulbs up before planting – no longer than 24 hours – and then they go into the soil about 4cm below the surface with the pointy end up.
Problems along the growing journey
Lots can grow wrong with garlic growing. Mark has spent 13 years figuring all this out.  I have had the learnings of a season so here are a few things to beware of:
Birds – Be sure also to make a few scarecrows as the birds will think the tip sticking out is a worm and then try to yank it out.  This happened with a few of mine last year.
Rust – these are small orange spots or blisters that appear on the leaves.  It's basically due to wind and not enough rain.  So water, water and water during the dry patches.
Eelworm – I had a few bulbs that had these little wrigglies inside.  You can mitigate this by adding wrapping a little newspaper around the bulb according to one allotment neighbour.  But I think this year I might be OK because they seem to prefer newly cultivated land and the patch I have planted on is not new.
Onion Fly – Look for a thick neck on the plant.  This is where the eggs are laid so when they hatch the little maggots bear down into the bulb and the plant collapses.  Just pull it out as soon as possible.
Harvesting 
Garlic will apparently tell you when it's time to harvest.  I think I went in too early panicking with the rust maybe but I did have a wonderful harvest.
Small bulbs but so satisfying to pull it out of the ground and smell the proper, full bodied garlic smell.  We tied ours together in a plait and have had it hanging on the kitchen door all summer.
 Preserving the surplus
Of course you don't need to grow garlic to make these preserves.  You could just as easily buy some beautiful garlic from Mark and that would do the job nicely.  But if you do have some spare and want two really easy recipes to try, these would be perfect.
Garlic and Chilli Paste
This really is the simplest recipe ever if you have a food processor or a Froothie. Just a few ingredients and you have a healthy paste to dollop into soups, curries or breads or use as a base for sandwiches or salad dressings alike.  My grandfather had a medicinal teaspoon everyday and lived into his late eighties.  Just click on the picture for the recipe.
Another brilliant store cupboard preserve is confit garlic.  The peeled bulbs are cooked ever so slowly in oil and they become silky soft and the garlic flavour seems to intensify even further.  They are really great on fluffy jacket potatoes or sourdough toast.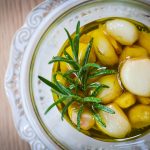 Print Recipe
Confit Garlic With Rosemary
Notes
You'll need
Garlic bulbs - however many you want to confit
Olive Oil - enough to cover the bulbs completely
Few sprigs of rosemary - optional
To make it simply place the bulbs into a heavy bottomed saucepan or a cast iron frying pan and then cover with oil. Then heat on a low flame for about an hour until the bulbs have completely softened. If the heat isn't low the bulbs will burn. You don't want this. You want them to slowly simmer away. There should barely be any bubbles on the oil. When they are ready pour them and the oil into a sterilised jar and then add the rosemary to permeate through. Eat within a month.
Are you a fan of garlic? Do you have any growing tips to share? How do you preserve it?