A couple of weeks ago I was invited on a foodie trip to Suffolk by the team at Food Safari.  The trip encompassed a visit to Hillfarm Oils based in Halesworth.
First and foremost a British family business
We were warmly greeted by Sam and Clare Fairs, the husband and wife team behind the business.  Sam farms rape, wheat and peas across 4000 acres of land on a 6 year rotation – Peas, Wheat, Wheat, Rape, Wheat, Rape, Wheat.
He explained that all vegetable oil is basically rapeseed oil which has been processed in different ways resulting in thinner storecupboard oil that can be used at temperatures higher the 20C.  He's been selling this on the global market for decades but the idea of honing in on a pure rapeseed variant came to him in 2004 when a friend of his father's observed he'd been put on rapeseed oil tablets to help reduce his cholesterol.
It takes a whole year to produce the oil
Planting starts in mid August. Indeed on Bank Holiday Monday when I was lazily dozing on my allotment, Sam and his team were out sowing rapeseed.  The soil, like my allotment, is clay based and thus requires little irrigation as it retains moisture well.  The biggest pests are indeed pigeons and of course weeds.  The weeds are killed off with safe pesticides and the pigeons shooed away by hand.
The seeds planted in August will flower in April/May not helping those of us who are allergic to their pollen, pods come up in May, seeds in June and then harvest begins during the third week of July.
The highlight of the trip for me was looking at Sam's collection of 'boy's toys' – combine harvesters, ploughs and drills.
Although the leaves are edible the combine harvester cuts up the whole plant in the field so only the seed is retained.  The ploughing discs will then cut up any residue left in the field so the soil is ready for planting.
This video gives you a pretty good idea of the harvest and how the machines work.  Music aside, it's fascinating.
<iframe width="853″ height="480″ src="//www.youtube.com/embed/sjrA10VvoZ8″ frameborder="0″ allowfullscreen>
We left the field to visit the shed.  Now this is no ordinary shed. Sam built it some years ago with huge solar panels covering the roof.  This produces 49 kilowatts of energy which is fed back into the business but also into the national grid.  Next time you make a cuppa, think about Sam's lovely shed.
In the shed the seeds are first put through a gravity separator which cleans them and removes the shuff, any stones and insects.  The seeds are then pressed and filtered.  In a week, the team go through 20 tonnes of seeds to produce 3000 litres which is around 6000 bottles.
The packaging is also all done on site and is 100% recyclable.  In fact there is no waste at all because Sam's pretty passionate about the environment.  Aside from the solar panels Sam turns all the waste products from the process into nutritional animal feed.
As we walked, talked and learned I found out a few little things I thought really reflected the personalities of the couple and the ethos of their business.  They pay for a team dinner at the local pub everyday which means all their staff get a daily hot meal and the local pub gets good trade.  They change their labels to reflect events that are important to them – for example some bottles this year will have a poppy to mark the 100 anniversary of WW1.  They set up and 'man' every stand at food festivals they exhibit at – Little things that just made me smile.
So how healthy is it? 
Hillfarm Extra Virgin Cold-Pressed Rapeseed Oil is produced from varieties tried and tested over the last ten years to produce oil with the best colour, taste and nutritional composition. It has half the saturated fat of olive oil, is high in Omega 3 and is a rich source of vitamin E.  In fact this little chart on their website is a really interesting comparison:
A very simple salad dressing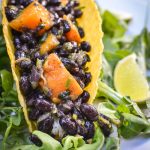 Print Recipe
Black Bean and Butternut Squash Tacos with Hillfarm's Salad Dressing
Servings: 4
Notes
You'll need
210ml Hillfarm Extra Virgin Cold Pressed Rapeseed Oil plus 2 more tbsp for the butternut squash
80ml balsamic vinegar
1/2 tsp ground ginger
100ml soy sauce
1 tbsp runny honey
1 tin (400g) black beans
1 small butternut squash
1 lime
Ready made taco shells and some green leaves for serving
To make them
To make the dressing, put the oil, vinegar, soy sauce, honey and ginger into a large bowl and whisk together until well combined.
Drain the black beans and then add them to the bowl and toss together.  Leave to marinade.
Peel and chop the butternut squash into 1 inch cubes and then steam for 5 minutes or til just tender. You need it to retain it's shape sho it should not be to squishy.
Once ready toss into the bowl of marinating black beans and mix well.
Fill each taco shell with the mixture and squirt over a wedge of lime then serve on a bed of rocket or other green leaves.
If you don't fancy the taco shells, this is also nice on a baked potato or simply on its own.
Related articles