It's Chocolate Week in the UK and what a chocolatey week it has been.  I have been using every excuse to eat as much chocolate as possible. And why not?! It contains endorphins – those lovely little feel good hormones and I need a few thousand of those at the moment with all the cold weather setting in.
Today is also the start of The Chocolate Show in London.  I had a lovely preview last night.  Here are a few chocolatey treats that caught my eye.
The show started today and closes on Sunday.
Something chocolatey then? 
So if those pics now have you hankering for something chocolatey try these super easy madeleines. Chocolate not actually required as this recipe uses store cupboard cocoa powder (just in case like me you do not have chocolate in the house when you neeeed chocolate in the house!)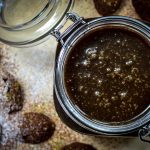 Print Recipe
Chocolate Madeleines
Notes
You will need
100g unsalted butter
2 eggs
60g caster sugar
25g runny honey
75g plain flour
25g cocoa powder
50g ground almonds
Icing sugar and edible glitter for dusting
To make them
Preheat the oven to 190C.
Melt the butter then leave to cool.  
Whisk the eggs lightly then add the sugar and honey and whisk again until the mixture is very thick and light.  The whisk should leave a distinct ribbon-like trail when lifted out of the bowl.
Sift the flour and cocoa powder into the mixture and lightly fold in.
Fold the almonds in and then finally add the melted butter.
Spoon the mixture into a madeleine tray - each one should be about three-quarters full.  This is about a level tablespoon.
Bake for about 10 minutes. The sponge should bounce back slightly when pushed gently. 
Turn out onto a wire rack and leave to cool completely before scoffing.
Serve dusted with icing sugar and edible glitter or better still some salted caramel dipping sauce.  It is Friday after all. 
Do you have any chocolatey favourites? What do you dip your madeleines into? 
Related articles