This week I have been experimenting with Lurpak Cooking Liquid.  It's a blend of butter and rapeseed oil that comes in a handy squeezy bottle that sits nicely in our fridge door or lies sideways without dripping all over the place.
I'll be honest I wasn't sure at first.  Why do I need a liquid butter and oil mix? Let me tell you why.
I like frying with butter. I love the buttery taste but of course heating butter on its own means it will burn. So I add oil but even after all these years I sometimes get the balance wrong and end up with too little oil or too much so no buttery taste.  Lurpak's Cooking Liquid solves that problem for me so I've been using the for pan frying fish, pancakes and starting off risottos or soups.
I love bakes that use oil because it's so easy to just pour and mix vs cream butter etc sometimes.  But you lose out on the buttery taste that creamed cakes have.  This liquid is perfect because you just squeeze the same amount as the oil equivalent in the recipe and get that nice velvety, buttery flavour.
Roasting is great but do you find you use lots and lots of oil – especially for roast potatoes? Well with this liquid you par boil as usual, toss them in this liquid and bake.  Great crust. Great buttery flavour.
So as you can see I have experimented well and would like to give this a proper thumbs up.  Pricewise it's around £3.25 for 500ml in my local supermarket which is about the same as two packs of good quality butter.  Not bad value really.
And what did I make? Well. It's half term and it's halloween so a spookily, easy carrot traybake was whipped up to inspire the girls with their costume planning.
The recipe is really easy so the girls will make it themselves next week and put their own twist on decoration I'm sure.  It's a 'one bowl' cake and the cooking liquid melts really nicely into the mixture resulting in a moist cake which keeps well and tastes nice and buttery too.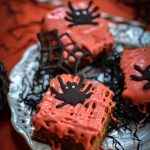 Print Recipe
Halloween Traybake
Servings: 12 -16
Notes
You'll need
300g carrots
225g self raising flour
1 tsp baking powder
1.5 tsp ground cinnamon
1/4 tsp ground nutmeg
1 tsp ground ginger
pinch salt
Zest of 1/2 lemon
200g muscavado sugar
75g chopped nuts - I used hazelnuts as I had some handy
3 eggs
150 Lurpak Cooking Liquid
200g cream cheese - full fat or it will be too runny
150g icing sugar
Juice of half a lemon
orange food colouring - to suit your taste
100g dark chocolate - at least 80% cocoa solids
To make it
Preheat the oven to 180C.
Squirt a little of the cooking liquid into a traybake tin about 25cm x 20cm x 5cm and smear all over. Then line with some greaseproof paper
Grate the carrots and set aside.
Beat the eggs and set aside.
Sieve the flour, baking powder, cinnamon, ginger, nutmeg and salt into a large mixing bowl  and mix together.
Add the sugar, nuts and lemon zest and mix til the lumps of sugar have disappeared.
Add the eggs and grated carrots and mix.
Pour the mixture into the traybake tin and bake for 45 minutes.  A cocktail stick inserted into the middle should come out clean when it's ready.
While it's baking you can make the chocolate decorations and ghoulish topping.
Put three quarters of the chocolate in a heatproof bowl over a pan of boiling water and leave it til it melts.
Take it off the heat and stir in the rest of the chocolate. This helps to cool it down.  Give it all a good mix to cool it down and thicken slightly for piping easily.
Take a sheet of baking paper and pipe on shapes of your choice.  I made some very easy spiders and cobwebs.  Leave to harden.
For the frosting, mix together the cream cheese, lemon juice, orange colouring and icing sugar until you have a nice smooth mixture.  If it's too runny, add more icing sugar or pop it in the fridge to firm up.
Once the cake has baked, pop it on a wire rack to cool completely and then cut into squares.
Spoon over the icing and top with your chocolate shapes.
Voila - easy Halloween half term baking.  As an alternative, use grated beetroot instead of the carrots with a white topping with a little beet juice for a bloody effect.
Thank you to the team at Lurpak for sending me some cooking liquid to play with and commissioning this recipe.
 Have you tried this cooking liquid? What's your view? 
Related articles