I must admit I get rather cross with all the Christmas hype on the high street and how it all seems to get earlier every year. In our house, we cannot, I mean we are not allowed to, get excited about Christmas until after my birthday which is on the 11th December.  Having grown up with joint presents and joint parties and joint cards, this one rule is simply non negotiable – especially when it comes to the Christmas tree.
The tree goes up literally the day after as eager little hands unpack the decorations and seek out favourites.  My girls each have a little box of decorations that they have made at school or we have bought for them each year. The idea is that they have the box ready to take with them when they leave home.  They get so excited when the box comes down from the loft.  Each has a story – a ballet figurine one year because they were obsessed with their pink tutus, a star made from their little handprints on card at nursery, reindeer baubles from a visit to Santa at Lapland.  The list goes on.
The decorating chatter is filled with "do you remember…?" as their little hands reach to secure the decorations carefully onto the tree.  They reach higher every year and this year I am sure they will reach higher than me as they've grown so tall.
Another tradition we started last year was baking edible tree ornaments.  These beautiful Polish biscuits from Ren Behan's blog are on the list. Just so pretty and rustic. A perfect match for the home crafted school ornaments that go between the 'posh' baubles.
Another favourite are these German Baiserringe – delicate rings of meringue which look every so pretty on the tree and are a welcome snack after the Queen's speech on Christmas day.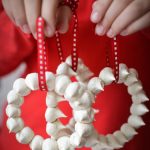 Print Recipe
Baiserringe - German Christmas Meringue Decorations
Notes
3 large egg whites
150g caster sugar
Food colouring of your choice (optional)
Sprinkles for decorating (optional)
A piping bag with a 1cm nozzle
Ribbons or Wool for tying onto the tree
Preheat the oven to 100C and line a few baking trays with greaseproof paper. Draw circles on the baking paper to the size of your choice – I used an espresso saucer. You could make stars or hearts also. Break the egg whites into a super clean bowl and then using an electric mixer with a whisk attachment or a handheld electric whisk, beat them until they form soft peaks. You should be able to tip the bowl over and they should stay put. Then add the sugar a tablespoon at a time until the mixture is shiny and glossy. At this stage you could split the mixture and add a few drops of food colouring of your choice to make different coloured rings. Next transfer the mixture carefully into the piping bag. Gently does it because you need to try and keep the lovely air you've whisked in. Now pipe small blobs on to the circles you drew as a guide. Carry on until all the meringue is used up. If you are using sprinkles, now is the time to sprinkle them over. Place the trays in the oven with the door slightly ajar. I wedged the door open with two wooden spoons. Bake for about 40 minutes. They should be firm to touch on the outside. Now turn the oven off and leave the meringue rings in the oven for another 40 minutes so they crisp up without burning. Once cool you can decorate with edible glitter and tie a loop of ribbon for popping them onto the tree.
Have you put your Christmas tree up yet? What are your tree decorating traditions? Do you have any edible ornament recipes to share?