Pancakes. They have become a Sunday ritual.  It's a weekend so porridge or cereal aren't special enough.  Somehow the Sunday breakfast deserves more attention.  Deserves more time.  But the warm bed, Sunday papers and my stack of new cookery books are calling and they deserve equal amounts of attention too after a long week.  So the compromise is pancakes.
These are whizzed up in my Froothie in seconds and with multiple pans on the stove, we have a decadent, healthy pancake breakfast ready in 15 minutes.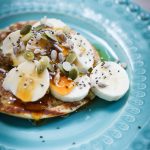 Print Recipe
Multi Seed Spelt Pancakes
Servings: 4
Notes
You'll need
30g butter (melted and cooled)
1 tablespoon baking powder
1 pinch of salt
2 large eggs 
300ml milk
225g spelt flour
Extra butter or cooking mist for frying
50g sunflower seeds
50g chia seeds
50g pumpkin seeds
To make them
Simply put all the ingredients into the Froothie or blender and whizz for a few seconds until it's all combined.  If you don't have a blender, mix the dry ingredients, make a well in the centre and then add the wet ingredients and whisk.  Just as quick really.
Brush your frying pan ( I use a 10 cm mini one egg pan) with a little butter and pour in enough batter to coat the bottom - about 3 tablespoons.
Sprinkle over a teaspoon of each of the seeds.  When bubbles appear on the batter, flip the pancake over and cook for a few more minutes.  The seeds should not splatter everywhere as they stick to the batter as it cooks.
Repeat until all the batter and seeds are used up.
The girls top with Nutella.  I don't care how much they slather on.  The spelt and seeds are virtuous enough to forgive their sin.  The sin of putting Nutella on anything that is and not simply spooning it out of the jar.
I prefer sliced bananas, a drizzle of orange blossom honey and more seeds.
 How do you like your pancakes?
Related articles