Today my Muslim friends are celebrating Eid.  The end of the month long fast of Ramadan.  I'm in awe of these friends.  In awe of their willpower and uncomplaining perseverance.  They bring a sense of calm to the busy-ness of London.
I remember visiting Dubai during Ramadan.  The month of blessing fell at the same time as our month of holiday and I found the mosques and markets equally fascinating at this time. Everything seemed to be subdued and the normal hub bub of the local markets during the day wasn't the bustle I expected.
At sunset however the city came alive.  People dressed in the finest clothes were out to shop, meet friends and break their daily fasts with Iftar feasts.  These are what I loved most and in particular the dessert platters of Emirati sweets. One little sweet I discovered was Luqaimat – dumplings made with flour, yoghurt and milk which are then deep fried and coated in sugar syrup.  They are flavoured with saffron for an additional air of decadence.
Re-creating them at home and I experimented with cardamom and rose which I bought at the Spice Souk on the Al Sabkha Road in Deira bartering along with the locals as they shopped and prepared for Eid.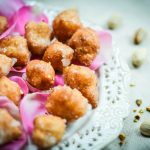 Print Recipe
Luqaimat
Notes
For the dumplings


• 200g plain flour
• 7g dried yeast
• ½ tsp salt
• ½ tsp cardamom powder
• 15g cornflour
• 50g plain yoghurt at room temperature
• 200ml warm milk
• Vegetable oil for frying


For the syrup and decoration


• 200g caster sugar
• 110ml water
• 2 tsp rosewater
• Handful pistachios – chopped
• Rose petals
1. Sieve the flours and salt into a large mixing bowl and then stir in the cardamom and salt.
2. Add the plain yoghurt to the milk and mix well before adding this to the dry mixture.
3. Whisk lightly until you have a lump free batter and set aside for 30-40 minutes in a warm place to prove.
4. When you are ready to fry the dumplings, heat the oil in a large wok over a low to medium flame. You need to fill your wok at least half way to deep fry rather than shallow fry.
5. At the same time put the caster sugar and water into a pan over a low heat. This needs about 10 minutes of gentle simmering to become a glossy syrup. The oil and syrup should be ready at the same time. Turn the heat off for the syrup and stir in the rosewater. Leave it on the cooker so it stays warm from the residual heat.
6. Now the oil is ready, carefully drop teaspoonfuls of the dumpling mixture into the wok and fry for a few minutes until they are golden brown all over. You will need to gently turn them while frying.
7. As soon as they have browned, drain them briefly on some kitchen paper, toss them into the rose syrup and then place them on a platter to cool.
8. Repeat until all the batter is used up.
9. Garnish the dumplings with the chopped pistachios and serve warm on a bed of rose petals.
Do you have any food memories associated with festivals?
This recipe was created for Kuoni's Cookbook which seeks inspiration from all over the world.  It's worth a flick through.
Some more doughnut inspiration – Triple Chocolate Doughnuts, Matcha Doughnuts, My Pinterest board dedicated to doughnuts!