I think the sun is staying out now.  It's been a bit hit and miss in London.  It always is as the school holidays start but I'm watching it go down over the rooftops as we speak knowing it's going to be another glorious day tomorrow.
This is a good thing for my diet. A very good thing.  I'm not on a specific diet. I don't believe in them but I try to eat in a balanced way every day and even if I say so myself, I am rather good at eating vegetables.  But fruit? Well that's an entirely different matter. I need it to be sunny.  If it is, I can eat fruit all day long. Eat only fruit even. But the slightest grey sky. The tiniest of raindrops and it puts me right off.  Odd right?
A fruit I do love though is kiwifruit. I could eat a whole bundle in this weather. Until you get that one sour one in the batch and then it leaves you resisting the temptation to cut open another. Been there right?  Well I've recently discovered a new variety which is always sweet but retains the wonderful lime undertone too. It looks the same on the outside but the flesh is a lovely yellow colour which ranges from deep gold to a lighter lemon.  The variety is called SunGold Kiwifruit and it's in season from now til October. It's been developed by cross breeding different kiwifruit varieties.
Super Snack Status
It's pretty darn healthy too.  When I spoke to the scientists at SunGold they told me "studies show that Kiwifruit has the highest nutrient adequacy score of 27 popular fruits, making it a real super-fruit. That means that bite for bite you get more nutrition with a kiwifruit than any other common fruit. Although both types are packed with vitamins and are low in fat, one serving of SunGold has over 300% of the RDA of Vitamin C. One SunGold Kiwifruit has more vitamin C than an orange, and is richer in potassium than a banana". 
My daughter is also a huge fan of kiwis but sometimes she'll get an allergic reaction. A swollen set of lips usually.  Nothing drastic but just enough to put her off for a while.  We've found though that with the SunGold kiwifruit she hasn't had any negative effects.  This is apparently because there are 11 small molecules or proteins that are responsible for the allergic nature of normal kiwifruit.  There are only three in the yellow fleshed variety and none so far have been irritants for my daughter.  This might not of course be the case for everyone but we're happy to have found a fruit we love that's sweet with no reactions.
We found that they go mushy faster than the green kiwifruit and so are pretty good in smoothies.  The colour looks much better too than a dull bogey green.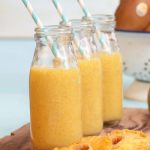 Print Recipe
Sunshine Smoothie
Servings: 2
Notes
You'll need
3 SunGold kiwifruits, peeled
200g pineapple chunks
½ teaspoon freshly grated turmeric or ¼ teaspoon dried turmeric
5-6 mint leaves
1 litre coconut water or coconut milk for a richer flavour
To make the smoothie simply put all the ingredients in a blender and blitz til smooth and creamy.  Pour into some highball type glasses which have been filled with ice.  Or, if you prefer a frozen margarita type consistency use a

power blender

 and add the ice with the other ingredients.
Are you a fan of kiwis? How do you eat them? Have you come across this new variety? 
Thank you to the team at Zespri for sending me a box of these lovely kiwis to try.