I have been observing the wellness dialogue from afar. It's really interesting to see how many instagram streams there are in this area.  Vibrant, plant based food. Mainly vegan or vegetarian. It all looks delicious. It's always pretty but it's never enough is it?
This is my biggest annoyance about 'wellness' foods. The portion sizes in all these beautiful books and insta feeds is just not enough food! One slice of sourdough toast with half an avocado. No! That's no way enough for my breakfast. I need at least two slices and a whole avocado on each! Am I being greedy? Maybe. I do like to eat.
But I'm worried about this. I'm worried for my girls who are 11 and 13 and impressionable. They are good eaters. Big eaters. It takes a full pub roast lunch each to fill them up. And even then they'll have extra helpings of pudding afterwards. Needless to say we can't afford to eat out often anymore! I am proud of their appetite. Proud of their unashamed greediness.
But I do worry that any day now this will disappear because of a need to conform to a media led idea of what 'wellness' is good food is and should look like. Reading Bee Wilson's article about her sister's eating disorder brought that to life a little more this morning. I love making food pretty. Of course I do. But I love piling it on my plate too.
So all this being said you can imagine that I was highly sceptical when Quaker Oats invited me to an event with Deliciously Ella. I love oats and I love how Ella transformed her life through food. So I put the politics of media aside and attended a lovely event in the idyllic setting of the rooftop bar of The Hamyard Hotel in London. It was a beautiful summer's evening and Ella really was a perfect host. Polite, knowledgeable and generous with her conversation.
Experimenting at home
When I got home I opened the lovely gift bag and found a press release with a few recipes to try. Overnight oats. What is the blinking fuss over this wellness fad?  It's just a variation of Bircher Muesli right? The principle of soaking oats to soften them and make them easier to digest is nothing new. I make Bircher often so I disregarded the piece of paper until a week ago. I had just tidied out my Kilner jar cupboard. Yes I know it's a bit excessive having a whole cupboard dedicated to Kilner jars but I do have a lot of them! I had a jar that wouldn't quite fit so I thought why not? Let's have a go at this overnight oats phenomenon.
At first I looked at the portion size for oats and laughed out loud. 50g??!! That's just over three tablespoons. How on earth is that going to fill me up? But I must admit that I was pleasantly surprised.  It was enough for two portions in the end. When I opened the jar the following day the oats had expanded a fair bit more than I expected but I didn't like the sticky consistency so I added more milk to make them sloppier.
I have enjoyed experimenting with different variations of milk, ingredients and toppings. Here's what I've learned.
They are easier to digest than porridge – for me anyway
I often feel bloated after porridge which is why I tend to have a smaller portion followed by eggs and toast. I did a little research on why this is by chatting to some osteopath friends of mine. As the oats soak the starches break down the natural phytic acid is reduced. This makes it easier for your body to absorb them.  The soaking is like long, slow cooking which you don't get from heating them.
 2. They keep you fuller – there is science behind this
I would not have expected 50g of oats to be enough of a portion size to fill me up. But I learned that one of the reasons these overnight oats did keep me full is because they have a lot of 'resistant starch'.  This is a natural carb which is higher in cooled foods. This is why some say that cooked, cooled potatoes will fill you up more. I never realised there was a scientific reason for that.
3. They're a great way of using up odds and ends
As with porridge I have loved how you can use up the odds and ends in the cupboards, fridge and fruit bowl. Bruised or overripe fruit is perfect for tossing into your Kilner jar instead of the bin.
4. A great creative start and end to the day
It's been great creating different variations. The flavours change so completely depending on the milk you use. I was a bit surprised about this. The only experiment I didn't like was the peanut butter. I know it's an extra shot of protein but I just didn't like the flavour in the oats or on top. An instagram follow has suggested almond butter so I might give that a go.
5. I can take them with me in the morning
I have started commuting for work again and often there isn't time to get everything done in the morning. And I don't like rushing breakfast. It makes me feel sick. I like how I can take the jar of breakfast with me on the train and eat it without much mess.
So I'd say this particular 'wellness' fad has won be over a little and for once I would say the portion size is right even for a greedy piglet like me.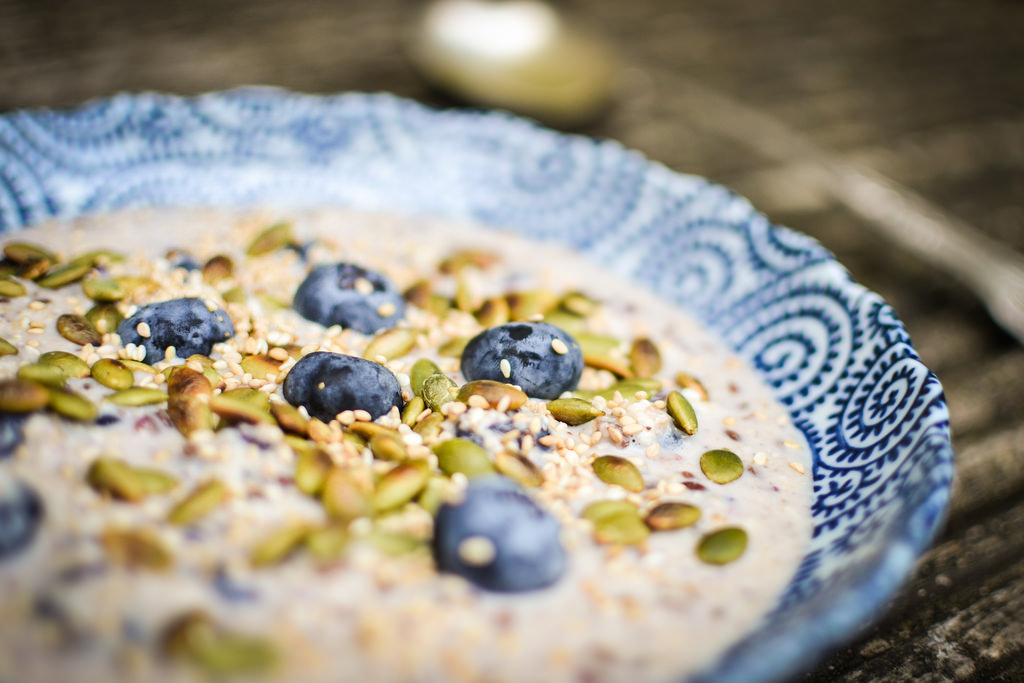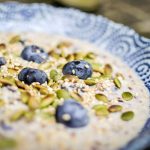 Print Recipe
Overnight Oats with Coconut and Blueberries
Nothing complicated about this overnight oats recipe and trust me the 50g oats really is all you need.
Ingredients
50

g

oats

100

ml

coconut milk - about 30-50ml more for thinning down in the morning after

handful squishy blueberries

1

tsp

dessicated coconut

gently toasted

1

tbsp

linseeds

1

tbsp

runny honey
Instructions
Mix all of the ingredients together and pour into an airtight container. Pop in the fridge overnight. In the morning mix well and thin down as you see best. Eat out of the jar or pour into a bowl and top with toasted sunflower and sesame seeds.
Here is some more inspiration for flavours and toppings
Pin this recipe for later…
Thanks to the team at Quaker Oats and Ella for the inspiration to have a go at a 'wellness' fad I would probably have disregarded but have a lot of fun with.