I'm not normally a gadget person in the kitchen.  Sure I like to save time like everyone else but rather than some whizzy gizmo for peeling garlic for example, I prefer to get stuck in and peel it with my fingers.  Having said that I do use a few machines to help get big jobs done quicker. My KitchenAid mixer, my Magimix processor, juicer and ice cream maker and my cheapo-I-don't-know-which-brand-it-is spice grinder.  But I have never had a gadget that saves time and helps me stay healthy so when the team at Tefal asked me to try out an Actifry, I accepted the challenge.
Let's take a closer look at the functions
Essentially there are no functions.  This is good. I like simple machines where I don't have to spend hours poring over the manual.  I was sent the large family machine.  It slotted in nicely alongside my other machines.
The uncooked food goes into the 'pan' and around the stirring paddle.   Then the patented hot air system cooks the food while the timer leaves you free to get on with other work.  There is a transparent window that you can peep into to ensure the food is not over cooking.  The great thing about it is that it doesn't steam up because there is no steam.  It's dry air cooking the food.
Experiments
I experimented first making these Parmesan Crusted Chicken Bites by Sarah at Taming Twins for my girls.  Actually the girls made them as they were so easy and the Actifry is so simple to use.  We ate these with sweet potato wedges also made in the Actifry and a creme fraiche dip.  The girls barely spoke as they wolfed these down. Thank you to Sarah for making my first time cooking chicken barely traumatic at all!
We made a similar recipe using prawns – Mince about 250g raw prawns with three spring onions and chilli flakes to suit your tastebuds, roll in flour, egg and panko breadcrumbs as Sarah does in her recipe and again cook in the Actifry for about 25 minutes til golden brown.
Speedy Granola
I then set about making breakfast. I love granola and experimenting with different pairings but it's a little time consuming to bake. The Actifry made it in 8 minutes. It was properly crunchy and I used far less oil that I would normally. I absolutely loved the results and for this alone the Actifry has been amazing.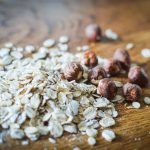 Print Recipe
Hazelnut And Cranberry Granola
Servings: 6 portions
Notes
You'll need
220g jumbo porridge oats/rolled oats
75g hazelnuts, chopped
75g flaked almonds
1/2 Tefal Actifry spoon of sesame seed or olive oil
150ml maple syrup
1tsp vanilla extract
75g dried fruit, chopped - I used cranberries
To make it
Put the oats, nuts, maple syrup, vanilla extract and oil in a large bowl and toss together so everything is evenly mixed.
Put the mixture in the Actifry, set the timer for 7 minutes, close the lid and leave it to cook.
Add the chopped dried fruit and then set the timer for another minute.  That's it. Done.
I love the simplicity of the ingredients used in granola. What variations do you make?