This year my hayfever has been worse than I can remember. It's around now in the season that it's really bad. Almost everything locally has begun to flower at the same time.  From horse chestnut trees to honeysuckle. It's all magnificently in bloom! I don't think I've gone a day without sneezing in the whole of the month of May. In fact I think the single biggest memory my children will have of Prince Harry and Meghan's wedding is likely to be that Mumma sneezed the whole way through. Aaachoo!
Well there has to be some upside. And there has to be some comfort. And that today comes in the form of Honeysuckle Cheesecake.  Aaachoo!
Elderflower isn't quite in bloom yet in my area but out on the allotment plot today a neighbour kindly offered me some honeysuckle. Gladly I accepted. Aaaachoo!
I have a few cheesecake recipes I favour but today was inspired by Rose Bakery's beautiful book Breakfast, Lunch and Tea. I bought it in Paris years ago before the children were born when my husband and I went to Paris for a long weekend. We stayed in a very grotty little B&B in Pigalle. So grotty that I couldn't bear to be there any longer than I had to. So one early morning search for breakfast led us to the beautiful Rose Bakery which seemed like heaven at the time. Anyway, my husband was baking a carrot cake from there today and left the book out on the counter. I've been reading it again ever since.
This honeysuckle cheesecake recipe is adapted from the ricotta version in there blended with an Austrian baked cheesecake recipe I learned at school. It makes the perfect little well in the centre of the cake which is perfect for loading up with honeycomb and flowers. You may add berries if you prefer.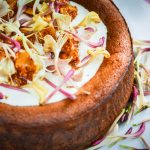 Print Recipe
Honeysuckle Cheesecake
A deliciously light ricotta based cheesecake that keeps for a few days of delight in the fridge.
Ingredients
For the base

12

digestive biscuit

100

g

soft unsalted butter

For the cheesecake

60

g

soft unsalted butter

140

g

caster sugar

500

g

ricotta

200

g

crème fraiche

80

g

honey

2

eggs - separated

60

g

ground almonds

60

g

fine semolina

For the topping

Handful of honeysuckle flowers to decorate

100

g

crème fraiche

Drizzle of honey
Instructions
Preheat the oven to 190C, grease and line and 20-25cm cake tin.

To make the base, melt the butter in a small saucepan and leave to cool slightly.

Crush the digestive biscuits - I use a pestle and mortar - and then mix them to the melted butter until all well combined.

Spoon the mixture into the prepared cake tin and then level it out with the back of a spoon, pressing down gently.

Bake for 5 minutes and then set aside.

For the cheesecake, first cream the butter, sugar and ricotta until light and fluffy.

Separate the eggs and then beat the yolks into the fluffy mixture one at a time and then mix in the crème fraiche.

Fold in the ground almonds and semolina then stir in the honey til well combined.

Whisk the eggs whites until stiff then fold these into the mixture carefully and lightly to keep as much air as possible.

Pour the mixture into the cake tin on top of the biscuit base and bake for about 50 minutes until it's golden brown on top.

Leave it to cool in the oven and in the tin for another 30-40 minutes.

Turn the cake out onto your serving plate, top with crème fraiche, honeysuckle flowers and a drizzling of honey.
This cheesecake is topped with honeycomb which is super easy to make. I remember making it on the Great British Bake Off Series 2 episode 2 with Mel. We had to film it a few times as she kept making me laugh. You need about 200g caster sugar, 100g golden syrup and 2 tsp bicarbonate of soda. Gently melt the sugar and syrup in a pan til it's all caramelly. Take it off the heat and add in the bicarb whisking furiously and then pour quickly over a tray lined with baking paper and leave to set somewhere cool. Easy but not a good one for when you have the sneezes. Aaachoo!
Related articles