Lockdown is forcing me to really have a good look through my storecupboard and see what needs eating up. It's been very therapeutic actually finding different ways to eat our lentils, beans and pulses. I have almost all the basic Indian ones of course but the other day I found a pack of Hodmedod's Carlin Peas. It must be super old because I bought them at Aldeburgh Food Festival and that was a couple of years ago now!
From the Great British Beans Project to the Hodmedod's of today
This post isn't sponsored or an ad. I'd just really like to give these guys a shout out. First off there was the Great British Beans trial project to stimulate and assess demand for indigenous pulses.
Nick Saltmarsh, Josiah Meldrum and William Hudson bought British-grown split fava beans, packed them up and then distributed them through community groups and local shops with a postcard with a short questionnaire to collect feedback.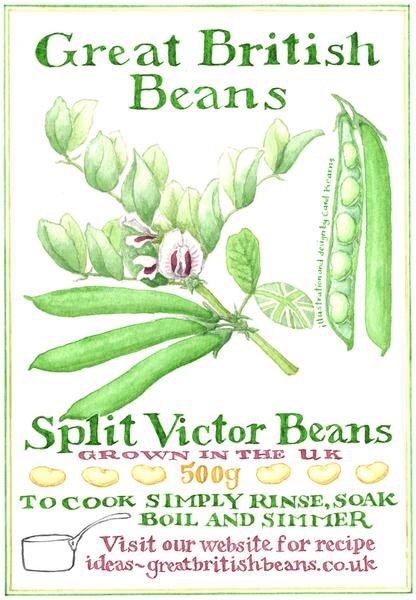 It was successful and in 2012 Hodmedod's was founded. They sell all sorts of beans, pulses, grains, flours – even British quinoa. I'm rather excited that they have Gujarati Vaal Dhal – a dish I served at my wedding.
Carlin Pea Curry
Anyway. Back to the Carlin peas I found. Mine were the
Black Badger variety but you can use the Red Fox ones in the same way
.
Let any whole dried pea you need to soak these overnight before you start this recipe. Hodmedod's however advise that you can quick-soak them by putting them in boiling water, then taking them off the heat and leaving for one hour. I haven't tried this method so I'll leave it with you to decide. Then you need to boil them for about an hour til soft. You should be able to squish them between your thumb and forefinger easily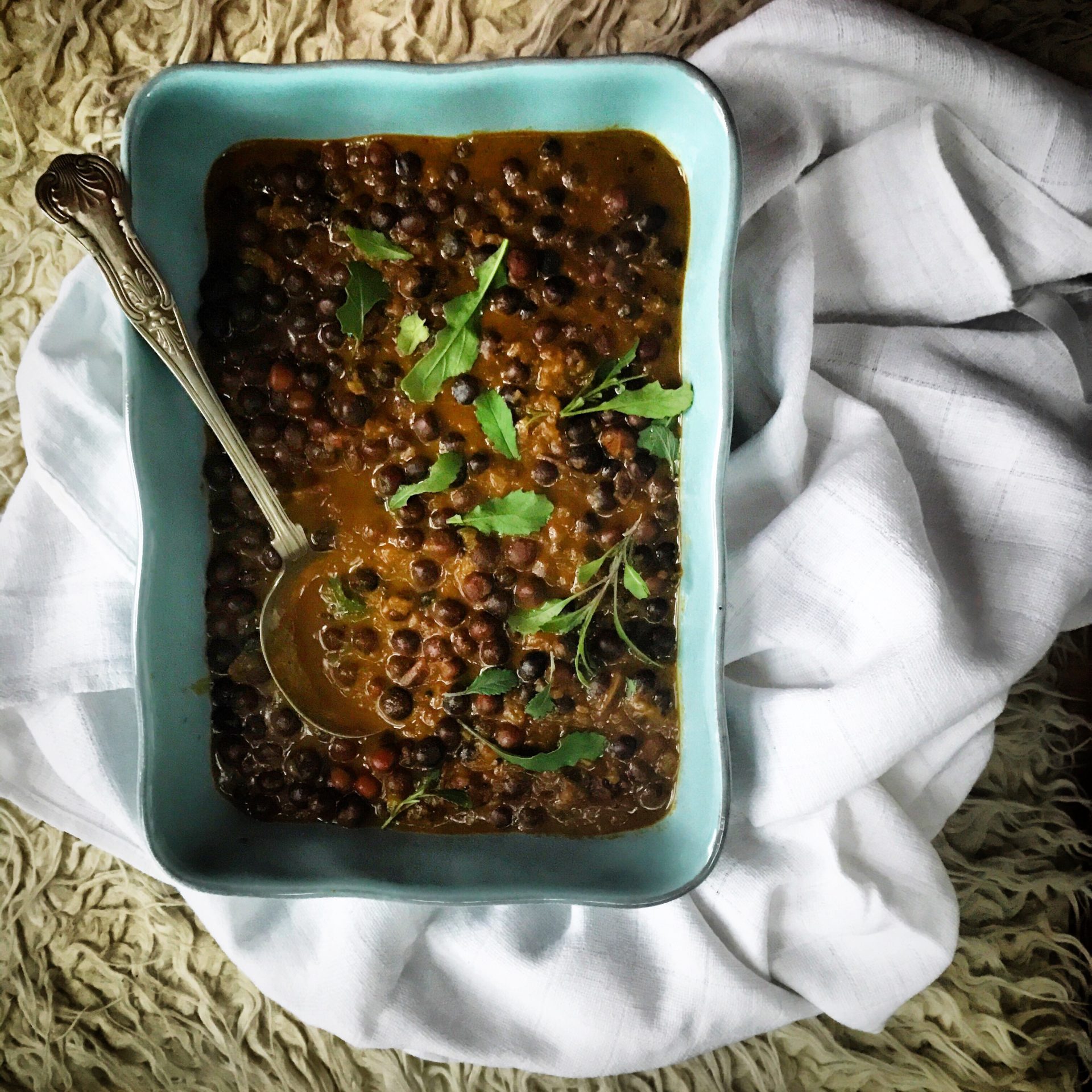 Ingredients
2 tbsp vegetable oil
1 tsp mustard seeds
1 tsp cumin seeds
Small inch of cinnamon
Couple of bay leaves
1 star anise
2 tin plum tomatoes or chopped tomatoes – puréed
1-2 teabags – any strong black tea. Eg Twinings English Breakfast
1.5 tsp salt
1 tsp turmeric
2 heaped tsp cumin powder
2 heaped tsp coriander powder
1-2 heaped tsp red chilli powder to your taste
2 tins of cooked Carlin Peas or about 700g dried Carlin Peas which have been soaked overnight and boiled for about an hour til soft.
Half a lemon
Handful fresh coriander for garnish
To make it
Heat the veg oil in a large saucepan or wok that has a lid.
When it's ready add the mustard seeds, cumin seeds, bay leaves, star anise. Yiu will know when the oil is ready when a mustard seed fizzles and pops in it. So use a few to test it before adding the rest if you're not sure.
Give the spices a little stir and then add in the puréed tomatoes and break in the tea from the teabags. I know it's odd but go with me on this one. It adds a really nice depth to the sauce.
Lower the heat right down, give it all a stir and then pop the lid on and let it simmer gently for 15 minutes.
Add the boiled Carlin peas, half a cup of water and the lemon, stir and then pop the lid back on and leave to simmer for another 30 minutes. Keep an eye on the level of liquid. You need a bit of sauce so if more water is needed, then add a little at a time.
Turn the heat off, squeeze the lemon that has been simmering with the beans. You'll find so much more juice comes out of it and the lemony tang lingers more than if you'd just added juice.
Remove the lemon. Give it a final stir and sprinkle over the fresh coriander.
Serve with crusty bread or naan to mop up the sauce.