A few weeks ago Jenny Linford wrote about what I would now call the Great British Cheese Crisis. She talked about the blow British artisan cheesemakers have been dealt with the closure of so many businesses, and in particular, restaurants, hotels, pubs and cafes. Cheesemongers who supplied these businesses have seen sales spiral downwards. It is a pretty scary and sad article.
Around the same time Neal's Yard Dairy started offering a Save British Cheese selection on their website. We ordered it right away. Along with some other cheese and yoghurt. It came beautifully packaged in eco friendly wrapping with lovely summaries about each of the cheeses.
One of them was Kirkham's Lancashire Cheese. Oh so so smooth, tangy and crumbly. It was delicious on its own – well not quite on its own. I actually had mine with red wine. No crackers. Just cheese and wine. And then I had an inkling to make biscuits. Cheesy biscuits. Shop bought Cheddar doesn't cut it at all in biscuits but I knew this Kirkham's Lancashire would be spot on.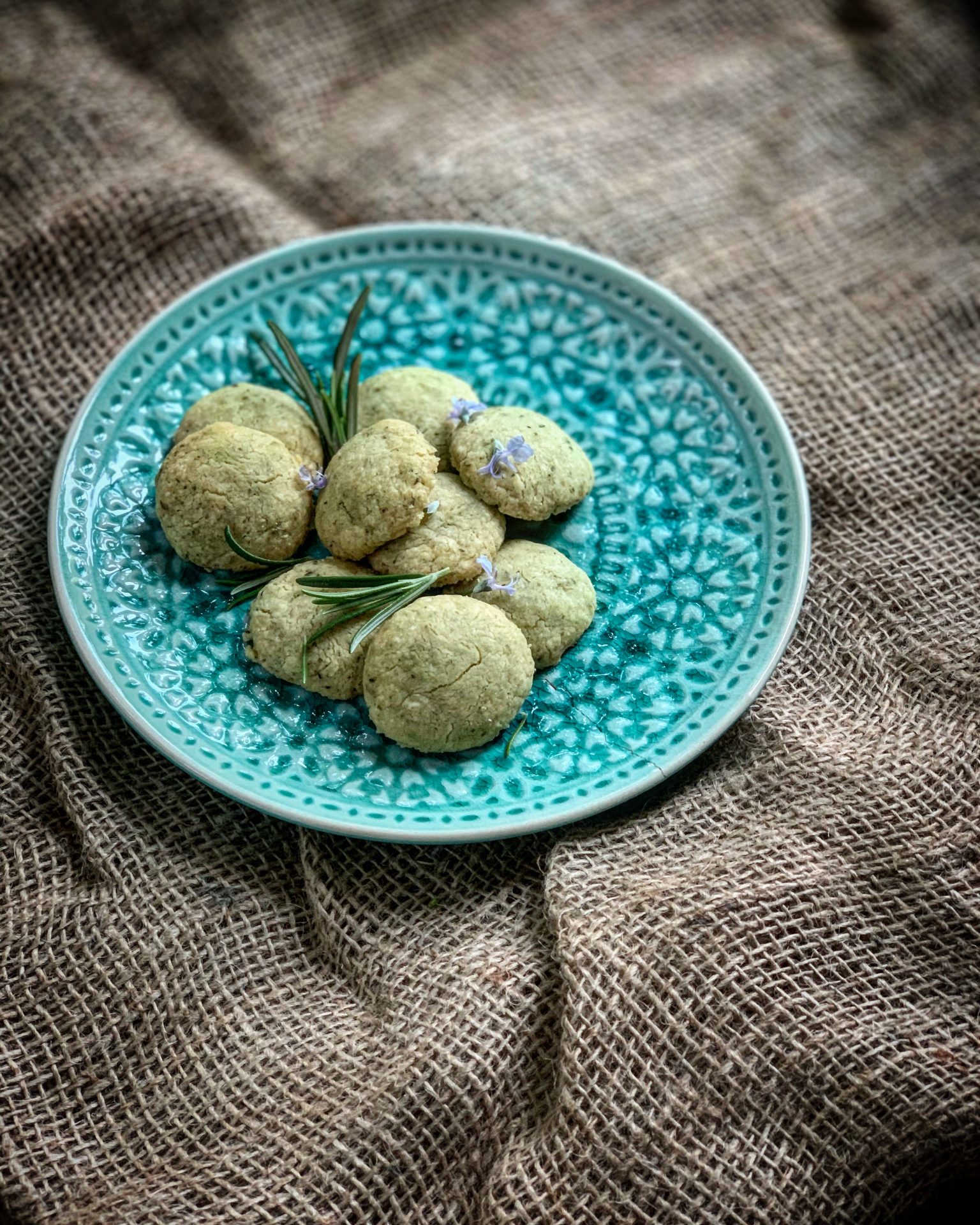 Kirkham's Lancashire Cheese and Rosemary Biscuits
You'll need
3 tbsp rosemary dust
75g soft unsalted butter
100g plain flour
Pinch salt
100g grated Kirkham's Lancashire cheese
To make them
First make the rosemary dust by taking some fresh rosemary and blitzing it in a spice grinder til it's a coarse powder. If you don't have fresh you could use dried rosemary.
In a mixer / blender pulse together the flour and butter til you get coarse breadcrumbs.
Add the grated cheese and rosemary dust and pulse some more till the mixture starts to come together.
Take it out of the blender and lightly bring it all together by hand.
Pop it in the fridge and put the oven on to 140c fan while you tidy away and line two baking trays with grease proof paper.
Take a tablespoon or so of the dough and make a ball. Mine were about 15g each. Carry on making balls until all the mixture is used up.
Pop them on to the baking tray and flatten the top so you have a disc shape. They don't spread so you can leave about 2cm between them.
Bake them for 25 mins and then take the tray out of the oven and leave them to cool
They will be melt in your mouth soft, slightly chewy but most of all cheesey. We had them as an aperitif with a really cold dry white wine. Just perfect.
This post isn't an ad or sponsored so all the links are given freely. At the time of writing Neal's Yard were still doing the Save British Cheese Box. We paid £25 but the price seems to vary depending on what cheeses are included. As soon as we finish this batch we will be ordering some more. It's a lovely way to try different cheeses.