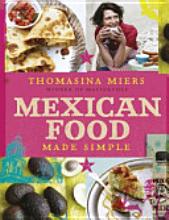 About the author
This book is by Thomasina Miers who visited Mexico at the age of 18 and then returned to live there, set up a bar in Mexico City and travel the country.  The setting up a bar in Mexico City must have taken some 'balls' so that itself gets my admiration but on top of that she won Masterchef in 2005. Double admiration. Her Mexican street cantina,  Wahaca, followed shortly afterwards.
My review
What I love most about this book is the basics section at the front which talks through a typical Mexican food day and some of the key ingredients used in Mexican cooking.  Don't skip it because you'll really miss out on what makes the recipes so special and authentic.
There are 11 chapters of recipes covering salsas, street food and drinks as you would expect because many of these are served at Wahaca.  She adds to these chapters some 'how to eat' guidelines which are great if you haven't had the chance to go to any of the restaurants.
There is also a whole chapter on cheeeese.  I love that one! I was surprised that she uses cheeses I wouldn't associate with Mexican food such as Pecorino and Ricotta. It's totally practical though because the Mexican cheeses she relates them too are difficult to find in the UK.   The chapter covers dips, quesiladas and the wonderful Tlayudas (Oaxacan Pizzas). She gives many ideas for variations to the recipes.
I also love the chapter on grills with the many fish dishes including Sardines Escabeche which strangely reminded me of Morocco because of the grilled sardines, currants and all spice used in the recipe.  You'll also find, Chilli Prawns, Veracruzan Grilled Sea Bass, Grilled Langoustines with Coriander and Pumpkin Seed Mole and BBQed Monkfish.  Hungry yet?
There are some great basic recipes in the book. For example Griddled Corn Cakes.  They are so easy and really worth making instead of getting shop bought. Totally different taste!
Another favourite for me was soups and in particular the Black Bean Sopa Azteca.  Be sure to read the instructions for cookign black beans first. It makes a BIG difference.  I cheated and the result was so much more bland.  This is the ultimate comfort soup though so make double the recipe and freeze it for days when you really need a food hug.
And finally onto puddings.  I made the Mexican Flan with Tequila Syrup which was lovely and would work just as well done as a Creme Brulee if you were short on time.  Poached Plums in Rose Syrup also was lovely but I am a huge fan of flower flavours in food. Hibiscus is another one flower she uses throughout and it makes a difference to the flavour so try and get some via the Supplier List at the back.
The photography throughout is vibrant and beautifully shot.  If I were to have a single criticism it would be to have a picture for each recipe. Mexican food is new to me and I like seeing what I need to be aiming for!
Book details
Hardcover: ISBN: 9780340994979 : £20
Published by Hodder and Stoughton
You might also like