I'm warning you. These are decadent. I mean really, really decadent.  I've added an extra layer of caramel to the version below because I made these for my girls as a 'well-done-at-school-treat'. The caramel balances the bitterness of the chocolate really well.
For an adult version leave the caramel out and serve with a dollop of sour cream or vanilla ice cream.  My favourite is the fabulously family run Winstones Ice Cream.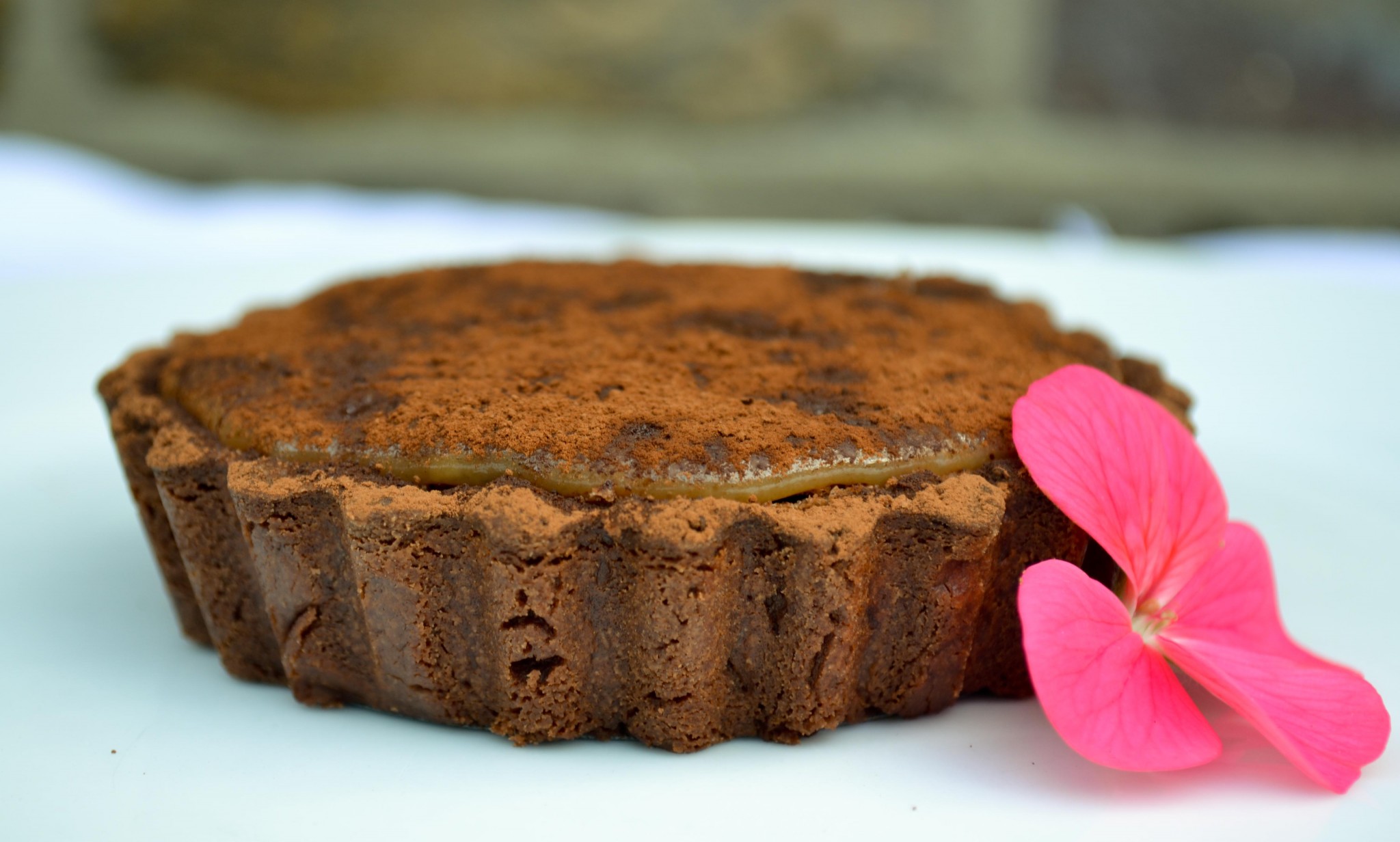 You'll need
For the pastry
200g plain flour, sifted
100g cold unsalted butter, diced
½ tsp salt
2 tbsp icing sugar
4tbsp good quality cocoa powder
1 large free-range egg
2 tbsp ice cold water
extra butter, for greasing
extra cocoa powder for dusting
For the filling
300g dark chocolate (80% cocoa solids or more)
200g soft unsalted butter, diced
2 eggs
2 egg yolks
50g sugar
For the caramel
150g unsalted butter
150g dark brown sugar
395g tin condensed milk
Equipment
8 to 10 mini tart tins – loose bottomed
A food processor – I have a Magimix
A KitchenAid with whisk attachment or an electric whisk
To make them
First make the pastry by putting the flour, salt, cocoa powder, icing sugar an butter into the food processor and blitzing quickly to breadcrumbs.
Mix the egg and water together and slowly pour this into the processor while it's on til you get a dough just come together. You might not use all the mixture.
Scrape the dough out, knead it lightly then cling film it and pop it into the fridge for at least 30 minutes. At this point I go for a run to counteract the decadence to come!
Preheat the oven to 180C.
Grease the tart tins and set aside.
Roll the pastry out to 5mm or so thick and then carefully line each tart tin with it.
Pop them in the freezer for about 5 minutes.
Line them with foil and baking beans and bake them blind for 20 minutes.
Take them out of the oven and leave them to cool while you make the chocolate filling.
Melt the butter and chocolate and set aside to cool slightly.
Whisk the eggs, egg yolks and sugar in the KitchenAid with the whisk attachment at speed 8 until it is pale and thick.
Gently fold in the melted chocolate and then spoon into the cooled pastry cases. Make sure you leave about 5mm from the top otherwise it overflows!
Bake these for another 8 minutes. The filling will look as if it is not set but it will as it cools so don't worry.
At this point, you could serve them warm with a dollop of sour cream.
Leave them to cool in their tins and then on a wire rack while you make the caramel.
Heat the butter and sugar until bubbling then add then the condensed milk and stir until it's thick and bubbly.
Spoon this over the completely cooled chocolate filling and then dust with cocoa powder.
I don't drink a lot of coffee but this does go well with a really nice  strong Espresso or Cappuccino.