Making cake pops is a really good way of using up leftover cake or cake that maybe didn't turn out to plan.  I made a chocolate loaf using a different recipe than I usually do. It tasted amazing but really didn't look too pretty.  Usually I'd cut it up into square chunks, pipe swirls of chocolate frosting on top of each and serve as bite-sized dessert canapés.  This time, inspired by the fabulous Bakerella I decided to try cake pops.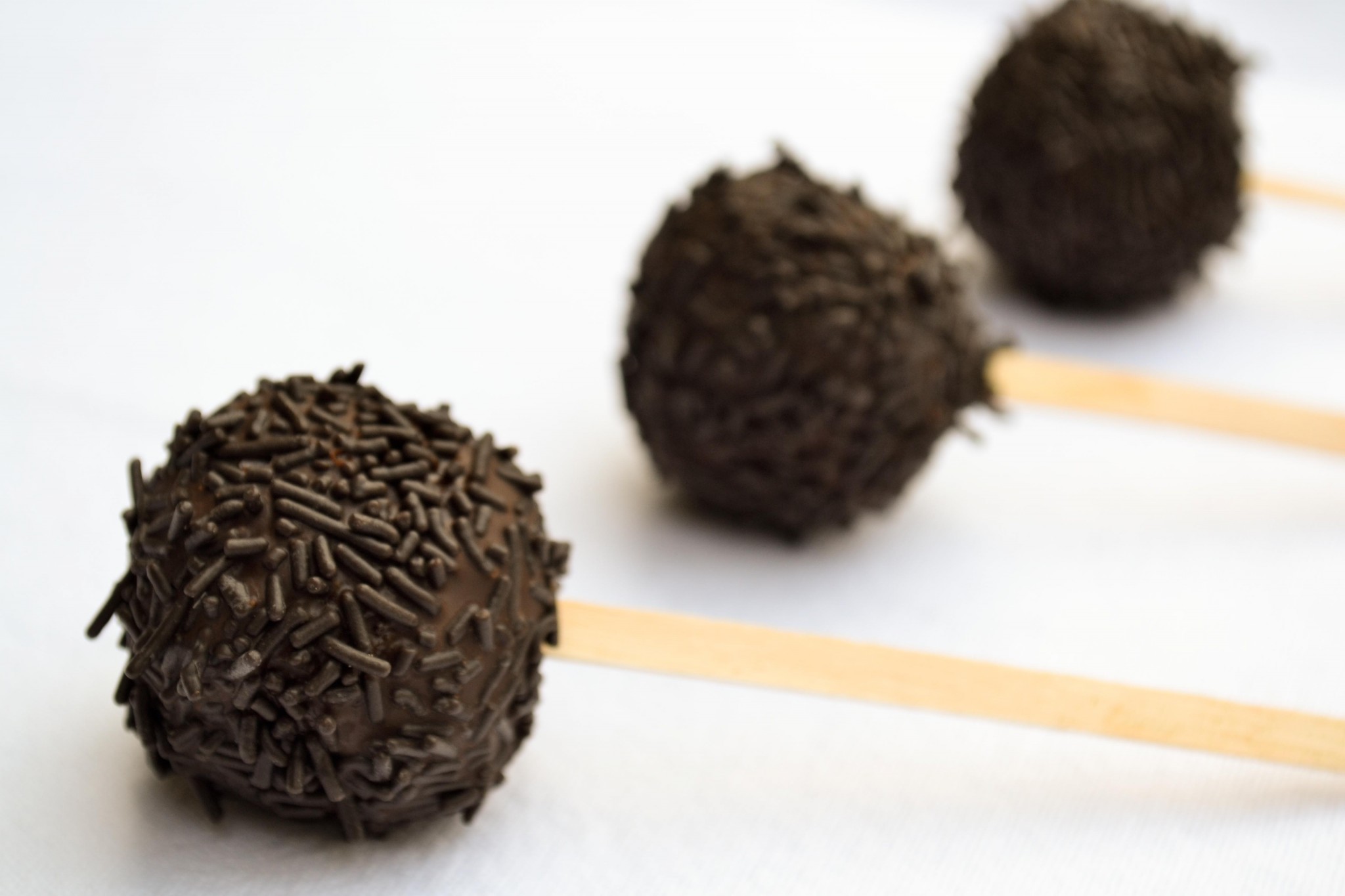 You'll need
For the cake filling
250g icing sugar
75g soft unsalted butter – diced
1 tsp vanilla essence
2 tbsp milk
For the topping and decoration
300g good quality dark chocolate (at least 80% cocoa solids)
Dark chocolate sprinkles
Equipment
A food processor. I use a Magimix
An electric mixer with a paddle attachment. I use a KitchenAid
Lollipop sticks – I didn't have any so I…..ahem….borrowed some wooden stirrers fro Krispy Kreme. Ssssshhhhh!
Two 7 or 8 year old helpers – see below
Two blocks of floral foam wrapped in clingfilm
To make them
First make the frosting by mixing the butter and icing sugar in the KitchenAid with a paddle attachment.  Slowly at first and then on speed 8 until it's creamy.  I always cover the mixer with a damp tea towel to prevent the icing sugar going everywhere!
Add the vanilla essence and milk until it's light and fluffy.
Cover it back up with the damp tea towel and then set aside.
Now blitz the loaf cake until you have lovely brown breadcrumbs and transfer this to a large bowl.
Add the frosting to the breadcrumbs a little at a time.  When it's ready it should be a fudge like texture and not crumble.
Cover the bowl in cling film and put it in the fridge for about 30 minutes.
Layout a flat plate or baking tray – it needs to fit in your freezer.
Now take little pieces of the mixture and roll them into a ball using the palms of your hands.  Each ball should be around 10-12g to get the size I made.  Or ask your little helpers:
When all the balls are done, pop them in the freezer for about 30 minutes.
Meanwhile melt the chocolate.  I do this in a microwave at 20 second bursts: Heat for 20 seconds, stir, heat for 20 seconds, stir. 2 bursts usually does it on a high heat.
Set up your work surface with a bowl of the melted chocolate, Oasis and A plateful of the chocolate sprinkles.
Take balls out of the freezer and pop a stick into the slightly flattened edge that has been resting on the tray.
Working as quickly as you can, so the melted chocolate doesn't stiffen and the cake balls don't get too warm, dip the balls into the chocolate. I scooped a little chocolate into a teaspoon and then roll the ball in that at a slant.
Cover each ball over in the chocolate sprinkles and pop upright onto the Oasis and leave to set.
You'll get about 30-40 cake pops depending on how many 'rejects' you eat!