A lot of people get so nervous about Swiss Roll but it's really not too hard to do.  I've filled this one with some simple Clementine Marmalade I made with leftover clementines.  You can use your favourite brand of marmalade or even some orange curd.
You'll need
125g plain flour
125g caster sugar

4 medium eggs

1 tsp orange extract

200g marmalade
200ml double cream (optional)
A KitchenAid with a paddle attachment or Electric Handheld Whisk

A Swiss Roll Baking Tray – approx 2 x 25 x 30cm
To make it
Preheat the oven to 200C line the Swiss Roll tray with greaseproof paper.
Beat the eggs and half the sugar until thick and pale.
Beat in the orange extract.
Put the remaining half of the sugar in an oven proof bowl or baking tray into the oven for a few minutes and then add it to the beaten mixture and continue to whisk until it is all combined.
Sift the flour into the mixture and fold it in.  It'll look almost like loose bread dough.
Pour it into the Swiss Roll tray and level it out quickly.
Bake it for 10 minutes.  It should be golden brown and springy to touch.
While it is baking lay a damp tea towel onto your work surface and then lay a sheet of greaseproof paper on top of that.  This should be the same size as your Swiss Roll tray.
Turn the sponge out onto this paper (top facing down) and then peel off the greaseproof paper the sponge baked on top of and leave this to cool.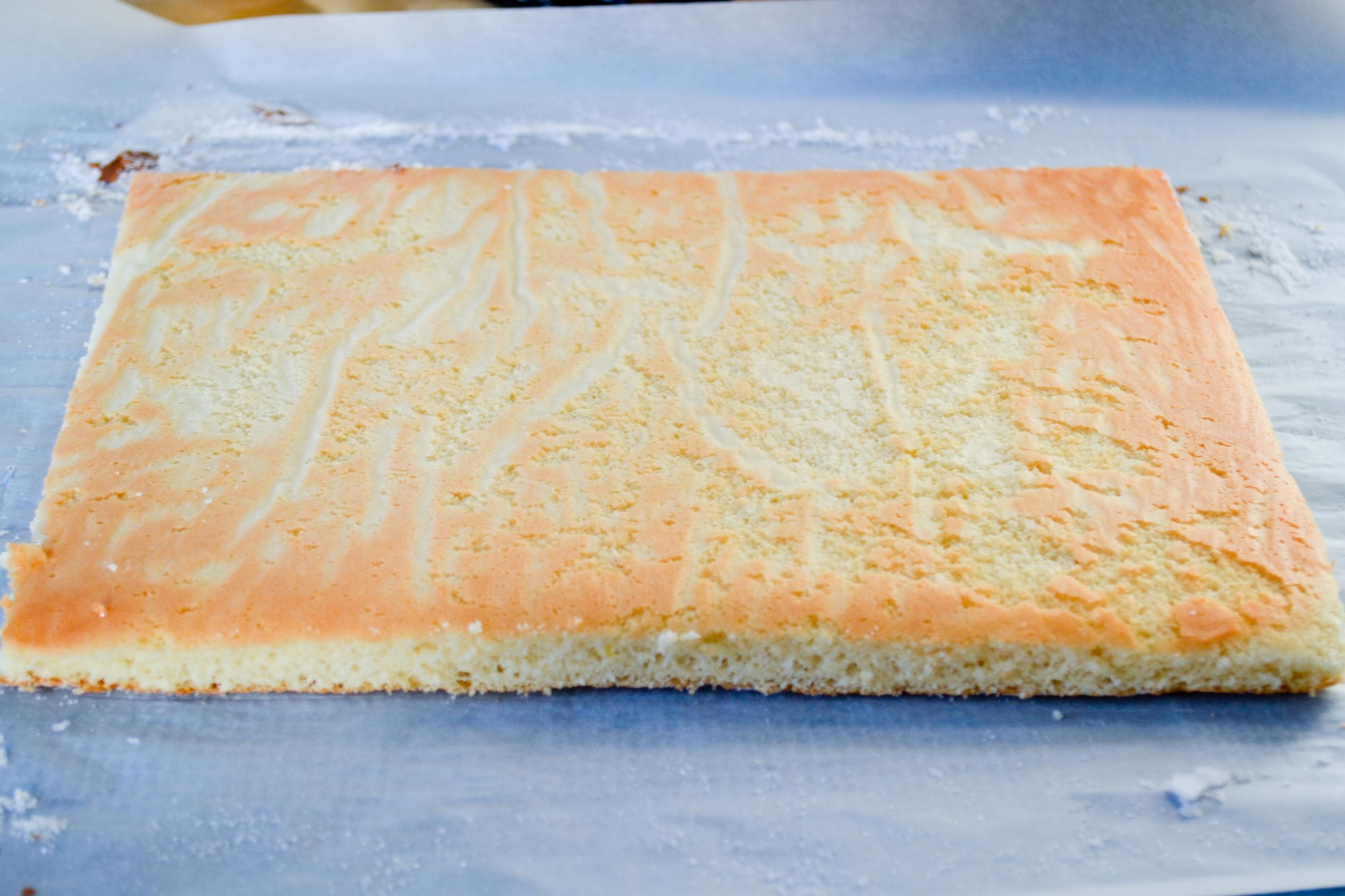 Once the sponge is cool, trim the sides as above
Whip up the cream (or not if you prefer to make this slightly healthier!).
Warm the marmalade slightly and then spread this over the base (topped with the cream).
Slowly and carefully roll up the sponge using the paper.  The cream will ooze out a little but it doesn't matter.  Just make sure the first roll is tight to get the even circle.
I served this with a little warmed marmalade and a cup of Assam.