If you received a beautiful bunch of roses for Valentine's Day, they should still be going strong.  If they are starting to wilt, re-cut the stems on a diagonal and then pop them back into a squeaky clean vase with freshwater.  You only need about 2 inches worth of water.  Any more than this will make the stems go soggy more quickly.
Personally I'm itching to get at my roses and make some rose oil and syrup!  They have been used for centuries for their aesthetic appeal but they have very practical uses for our general well-being too.  Rose oils are used in aromatherapy to relive stress and also as part of skin care routines for dry or ageing skins.  I realise now why my elderly Indian aunties smell of roses!
They are edible and I've been asked lots of questions about them this week – a lady actually stopped me in Waitrose recognising me as the one used used flowers in The Great British Bake Off!
So here's what I know.  I hasten to add that this is not conclusive evidence – just what I've done and had no adverse effects with.
Using fresh roses
I prefer to use the roses from my garden because I know they haven't been sprayed with anything but I have used flowers from my florist and garden centre before too.
Only eat the petals of the rose.  The stamen, style and sepals can't be eaten.
Shake away as much of the pollen as you can because it tastes bitter and could cause an allergic reaction.
Once you've picked off the petals, dip one at a time into a bowl of cooled, boiled water and wipe the front and back gently using some kitchen paper. Then leave this to dry.
Keep a few rose heads just for decoration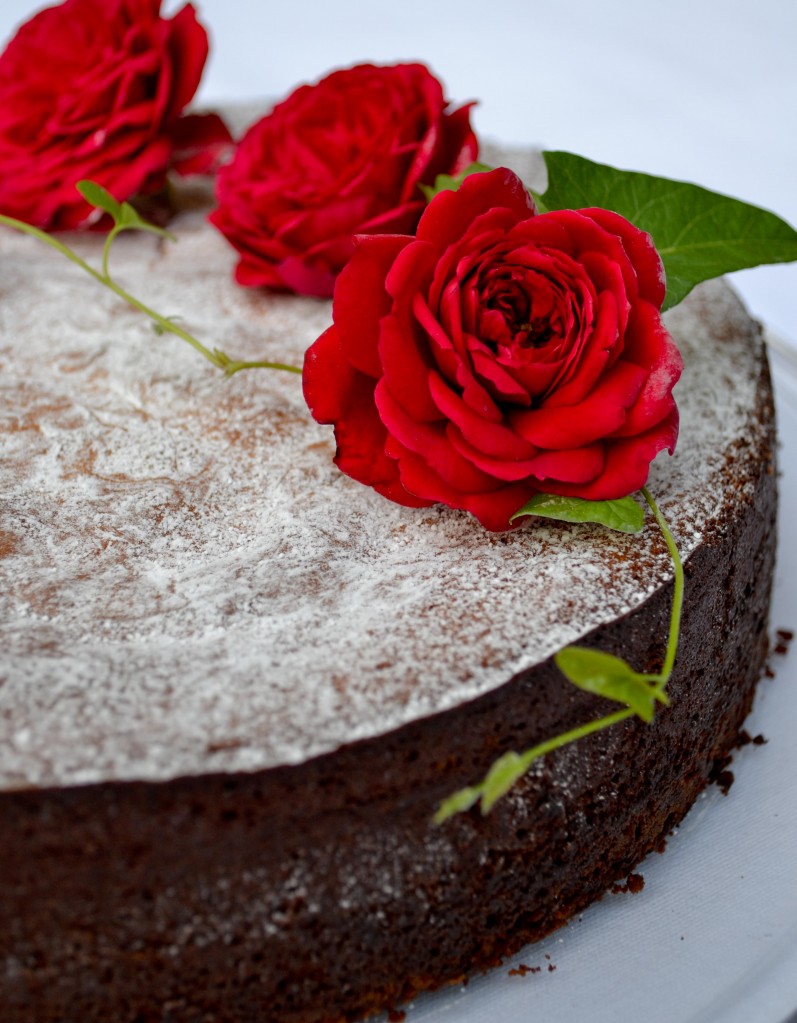 Using ready made rose flavourings
Roses have such a delicate flavour which has been captured commercially in the following ways.
Rosewater – this is watered down essence of roses and is widely available in the baking sections of most supermarkets.  I find it is best to add this as close to the end of a cooking process as possible to use less and keep as much of the flavour.   Try Rose Macaroons.
Rose Syrup –  This is most readily available in Indian supermarkets as it's the main flavouring for Falooda – a rose flavoured milkshake.  Alternatively, you can buy it in wine shops as it's used in cocktails like this variety from Monin.  Try this in Rose Cheesecake or in the Creme Anglais for Profiteroles.
Rose Essence – this comes in little bottles like vanilla essence and I have never used it.  It's sickly sweet and has far too many additives.
Dried Rose Petals –  These are fresh petals that have been freeze dried to preserve the scent and flavour.  Steenbergs do a lovely organic one.  You can crumble them into salad or on top of cakes.
Crystallised Rose Petals – These are fresh petals that have a coating of confectioner's sugar.  They are only really used for decoration.  Rococo do a wonderful version.
I make my own syrup which keeps in a little bottle for ages in the fridge.  I drizzle it on sponge cakes or over salad or use it to flavour champagne or prosecco.  Just take 1 cup of water.  It doesn't matter what size as long as you use the same for the rest of the measures.  I just use a teacup.  3 cups of granulated sugar and 1 cup of rose petals (whole or crushed or wilted – it doesn't matter!).  Put them all into a saucepan over a medium heat and bring them to the boil for 10 minutes.  You should be left with a syrup. Strain this through a cheesecloth into a dishwashed or sterilised glass jar.  And that's really it!
What do you think about using flowers in cooking and baking? Do you have any of your own recipes to share?