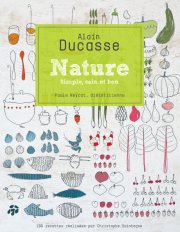 About the author
Alain Ducase is a legend. He's done so much and created such wonderful food all over the world. Did you know he has 20 restaurants in 8 different countries??! He was also the first chef to be awarded 3 Michelin Stars in 3 different cities at the same time.  He's written this book with nutritionist Paule Neyrat and describes it simple as "delicious French cuisine without the fat or fuss".
The book starts with a section on 'condiments'.  That's a very French word isn't it? It misled me a bit because I'm not a fan of chutneys and pickles which are what I tend to label as condiments but there were Preserved Lemons, all kinds of 'Dips' like his versions of Guacamole Pesto and Hummus but also more unusual accompaniments like Pumpkin Seed and Cucumber and Apple Condiments.
There is a lovely section on simple Tartines – a bit like Valentine Warner's section on Toast in his book The Good Table.  It gave me lots of ideas for simple Spring suppers –  Purple Artichoke, Asparagus and Tapenade Tartines, Simple Herb Tartines with Parmesan and Curd, Fig and Honey Tartines.  Yummmm.
Then there are sections on Tarts, Pizzas and Crepes where I found this wonderful recipe for Panisses (chips made from chickpea flour).
As this is a book focussed on healthy meals, there is a wonderful section on Grains as well as Pasta and Rice.  You'll find quinoa, einkorn, bulghar wheat alongside couscous and barley.   All of the dishes look like meals in their own right rather than side dishes to the Fish, Poultry and Meat dishes which follow in later chapters.
As a vegetarian, it was also good to see chapters on Beans and Pulses which encompassed salads and starter ideas as well as main courses.  Here's my variation on his hummus recipe.  I added some rocket to give it the wonderful green colour.
Of course one of my favourite chapters was Desserts.  I love French desserts and though not classically French, the sweet dishes in here were really enticing.  Poached Pears, Pear Sorbet and Chocolate Sauce?  perhaps some Lemon Crème Caramel then? I could have made all of them but opted for this glorious Rhubarb Tart.
What I enjoyed most about this book were the comical illustrations of Alain and Paule which talk about nutritional values (like me!) or give tips on cooking and preparing.  On top of that the photography is truly inspiring – beautiful shots of French artisans and countryside vistas.
It's been a long winter in the UK and I'm done with stodgy comfort food eating. If you feel the same, this book is a must have.
Book details
Hardcover: ISBN: 9781742700502: £25
Published by Hardie Grant who kindly allowed me to reproduce the recipes for Rhubarb Tart and Panisses.
Alain also has a very comprehensive website at http://www.alain-ducasse.com/en.
The book is available on Amazon and Waterstones.