The best thing about Bank Holidays is a lazy breakfast. Who can pass up a lovely English breakfast buffet? Or lots of lovely baked breads and croissants from France with jams and honey. Perhaps Mexican is more your thing with Huevos Rancheros?
I would hold a lazy Gujarati breakfast high on the list.  Lazy for those waking up to the smells of the dishes below maybe – not for those of us getting up early to prepare!
First on my list are 'Poodla' – these are pancakes made from chickpea flour, spices and yoghurt.  I eat them simply with a little yoghurt for dipping but they're great with coriander, coconut and green chilli chutney too. You can also make baby blini sized ones.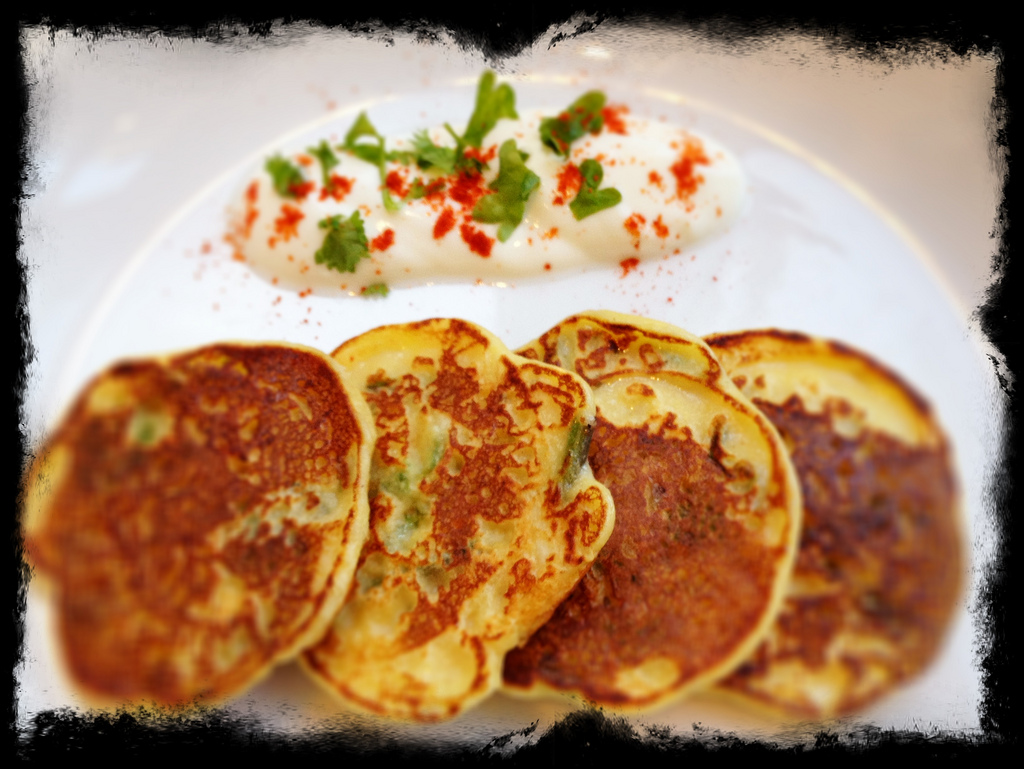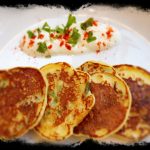 Print Recipe
Gujarati Pudla
Notes
1 small white onion
250g chick pea flour
50g fine semolina
4 heaped tbsp plain yoghurt
1.5 tsp salt
1/2 tsp turmeric powder
1.5 tsp red chilli powder (or red chilli flakes for more heat)
1 tsp cumin powder
1 tsp ajowan seeds
half bunch fresh coriander – chopped
Warm water – approx 100ml
Vegetable oil for frying
To make them

Chop the onion finely and pop into a bowl.  Mix the flour, spices and yoghurt in and mix well. Add some water to make a thick batter – as you would with crepes or pancakes. Heat a flat, preferable non stick, frying/pancake pan with a little oil.  I use about one teaspoon per pudla. Ladle in a few tablespoons or a soup ladle of the batter and then smooth over into a large round with the back of the spoon so you have an evenly distributed batter. Leave to cook for a few minutes until the edges start crisping up and the surface starts drying out a little. Then flip over and cook the other side for a few minutes. You should have a golden brown colour and some little holes in the pancake. Repeat til you use up all the batter. I like these with a little plain yoghurt for dipping but here are some alternative ideas:
Layer them up with fresh chopped tomatoes, onion and a sprinkling of peanuts.
Add a handful of finely chopped fresh spinach, chopped boiled potatoes, freshly chopped tomatoes, grated courgette to grated carrot into the batter.
Serve with Indian lemon pickle or Mango chutney