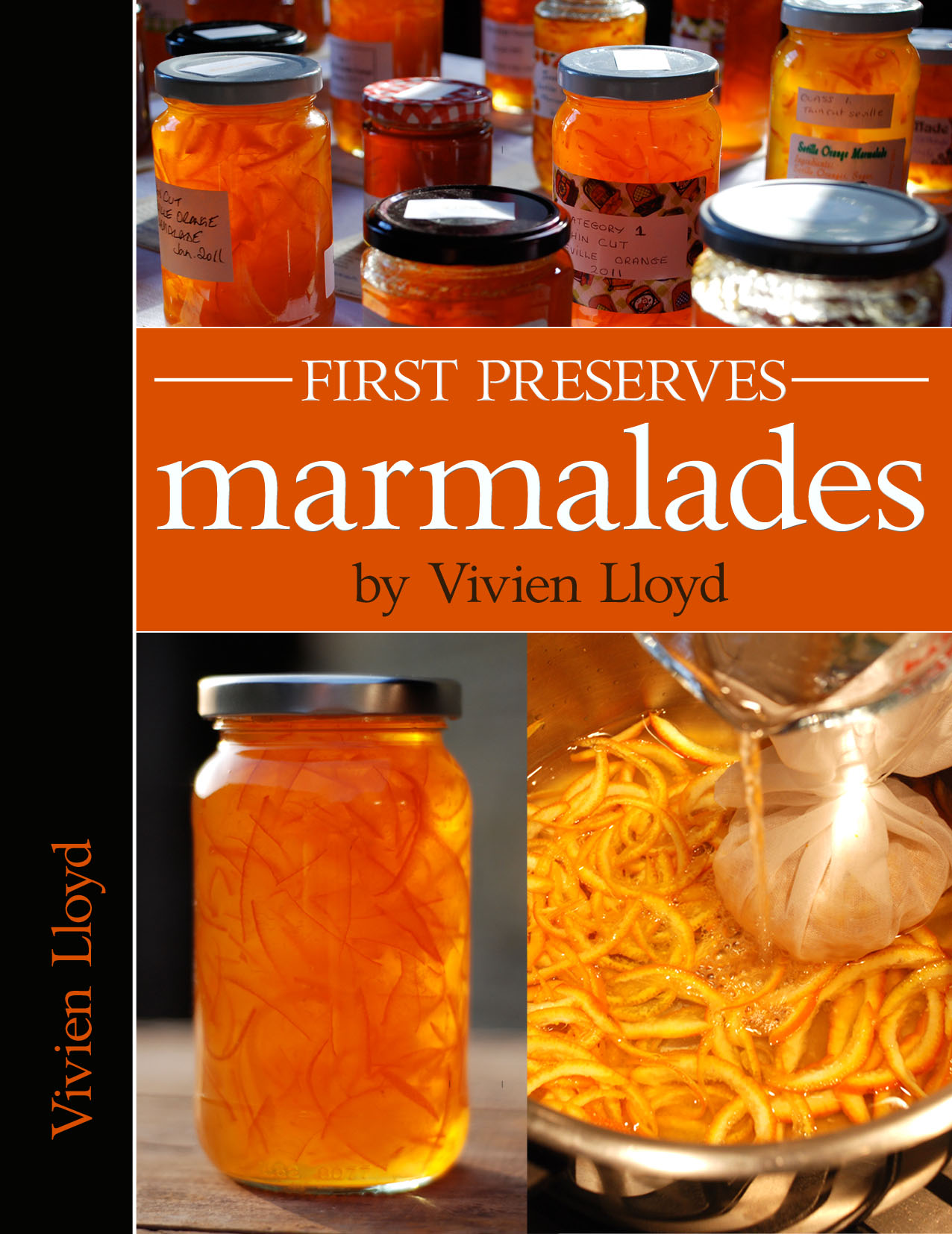 Vivien has been making and demonstrating preserves for 25 years.  She has won numerous awards and has 18 years of judging preserves at competitions on her CV too.
I recently met Vivien at a special jam making evening in London. She's incredibly down to earth and not as scary as you would imagine WI judges to be!
This book is the first preserve making book I've picked up that doesn't feel 'fuddy-duddy'.  So many books in this genre look far too complex with pictures and formulae that just don't seem friendly.  This book is totally different.
It starts with a lovely historical introduction and an overview of the equipment.  This isn't scary or complex.  Simply some hints and tips on types of pans and spoons.
The first chapter covers marmalade.  Very apt as Vivien won the 2008 Best of the best for her Seville Orange Marmalade at the World's Original Marmalade Festival.  Recipes include the Seville Orange Marmalade but also Merry Marmalade which gives you the option of adding some alocohol of your choice, Three Fruit Marmalade and Lime Marmalade which I'm most looking forward to trying once I have some space in my fridge and some spare jars.
Next she addresses jam.  There is a wonderful history taking us back to 1718 and the movement of cane sugar into Europe enabling jam making.  There is a lot of information on pectin – key for the best jams which are high in this.  It's easy to digest – short and to the point.   There is also lots of guidance on testing for setting point and troubleshooting.   Recipes cover all seasons.  Blackcurrant Jam, Apple and Ginger Jam, Blackberry and Apple, Greengage, Quince and of course Strawberry.  
Finally a chapter on chutney.  The word originates from India – 'chatni' – which means 'to be licked'.  But the chutneys in this book are not like those my mother makes. This is the distinct English chutney of which I am not a fan so I didn't read this section in too much detail.  There were some recipes that I may make for my father in law as he and his wife are partial to chutneys.  Damson, Ginger and Cardamom didn't seem too oniony and the Green Tomato and Banana intrigued me.
All through these chapters, there are step by step pictures of the different stages which I love because as a beginner it's good to have something to aim for.


Competitions is a big chapter in this book.  It has tempted me to have a go at The Enfield Autumn Show later this year.   Vivien runs through the WI marking criteria and offers some tips on preparing and planning.
Finally, and the most interesting for a botanical enthusiast like me, a glossary of fruits.  She lists varieties suitable for growing at home or in an allotment by order of month. Most vitally, there is a quick summary of the pectin levels in fruits.  This is really useful because I always thought I would start with strawberries but actually these are low in pectin and so difficult to get right for jam making.  Good to know!
Book details
Hardcover: ISBN: 978-0-9569822-0-9
Published by Citrus Press
The book is available on Amazon , Waterstones and iTunes.
Vivien blogs at www.vivienlloydpreserves.com/marmalade/blog/ and offers courses from her home in Somerset.  You can also follow her on Twitter @VivienLloyd.