If you've read my review of Roast Figs, Sugar Snow, you'll know that I am already a fan of Diana Henry's writing.  I love the ways she explores different writers, cooks, chefs and foodie businesses and converges them with wonderful recipes to make for books which are good reads as well as great recipe books.
This latest book is dedicated to the art of preserving.  Now this sounds very silly but until I read it I hadn't really thought about the fact that preserving is not all about jam-making. I honestly had not stopped to think about all the different methods there are of keeping food for longer and transforming the way it tastes to enjoy in the months to come.  This book really brings all the techniques together in a beautifully photographed memoire.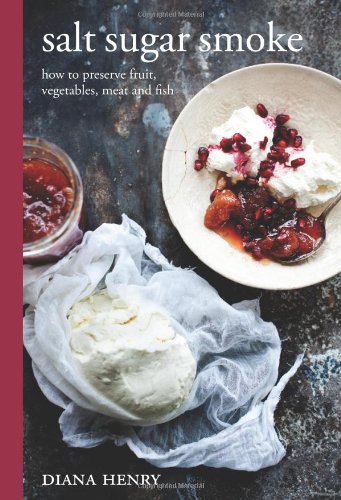 "Preserving aligns itself to thinking about food in a more caring way.  It's partly about using gluts and not squandering abundance" 
Jam is the first chapter and covers much of the basics of jam making – how to get a set, how certain fruits behave, how to sterlise equipment.  Diana says it's not rocket science but for me it is still daunting.  It takes me back to when I first started baking and I always wondered if the cake would sink in the middle keeping fingers and toes crossed that it wouldn't! That's how I now feel about jam setting! But I had a wonderful, hands on introduction from Vivien Lloyd and this book entices me to my maslin pan with wonderful recipes such as Purple Fig and Pomegranate Jam, Greengage and Gurwurztraminer Jam, Scarlet Pepper and Chilli Jam and Plum Orange Cardamom Jam.
"Lovely jars of jewelled colours" 
Next on to Jellies, Curds and Fruit Cheeses.  I'm better at those and it was lovely to see recipes for unusual flavours such as Gooseberry Curd and Nimboo Curd.  why I didn't think of the latter I don't know as they are my all time favourite Indian ingredients and taste like no other limes I've ever come across.  Ren Behan made us all the Passionfruit Curd in a classic Victoria Sponge and it was wonderfully tart and sweet – a perfect balance to the rich sponge.
I'm new to jellies too but they don't scare me as much as jam. I tried the Fireside Chilli recipe with a stash of apples I'd collected with food writer Monica Shaw.  It filled my kitchen with such beautiful smells of cinnamon, apple and chilli.  I learned a valuable lesson with that attempt – pectin deteriorates so you must heed the timings in the book!
I'm looking forward to trying Earl Grey Tea Jelly, Quince and Star Anise Jelly and seeking out some medlars for the Medlar Jelly recipe as I'm intrigued by this ingredient I've never come across.
"Regard this chapter as a box of culinary accessories." 
Those of you with a sweet tooth will love the next chapter of Sauces, Pastes, Mustards and Vinegars.  I made straight for the Harissa but used ancho chillies as I didn't have any guajillo as Diana suggested.  I also added some smoked paprika and was rather satisfied by my hour with the pestle and mortar.  (Diana's recipe actually uses a mixer but I wanted to road test my oversized granite purchase!).
You'll also find Chipotle Sauce, Turkish Pepper Paste, Constance Spry's Chilli Sherry, Cranberry Mustard and Zhoug alongside fruit and herb vinegars such as Tarragon Vinegar, Maple Vinegar and Sweet Fig Vinegar and there are plenty of ideas on how to use these throughout the book.
"Foods steeped in an olive oil bath taste luscious" 
Oil is a preservation technique I have grown up with as many Indian families use this for kitchen basics such as my mum's Garlic and Red Chilli Paste.  The countries I associate most with oils are featured well in the book – flavoured olives from Morocco  Spain, Italy and Greece.  Roast peppers, griddled aubergines and mushrooms all reminiscent of NudoItalia's antipasti.  I was however most intrigued by the cheese ideas in oil.  I made Labneh from a large tub of sheep's yoghurt sold in my local corner shop.  It was simple and as Diana suggested, just perfect on a slice of sourdough for supper.
"We are irrevocably drawn to the smell of wood smoke"
Smoking is not something I was a huge fan of.  I associated the technique with meats until I tried smoked salmon at a Norwegian friend's house at university.  I still wasn't convinced until much later in life and so was fascinated by the science of the process Diana outlines in her book.  But as she says, we smoke food for the flavour it imparts and not for the preservative qualities of the two hundred components within the smoke that grow microbes or oxidise fats.  It's a technique I am looking forward to trying and Diana makes it easy to get started with suggested retailers of equipment and her own tips for cold and hot smoking.
Cordials, Alcohols, Fruits and Spoon Sweets was a favourite chapter to read as I've been fascinated with fruit alcohols since my husband took me to The Old House at Home near Chipping Sodbury where he grew up.  They still have one of the largest collections I have ever seen and I look forward to visiting them just to try a new flavour.  Flavours in Diana's book are different with their own story to tell – Plum and Almond Hooch, Peaches in Brandy, Apricots in Muscat, Russian Plum Liqueur and Rhubarb Schnapps.  And there are non alcoholic recipes that are equally tempting – Sekanjabin (a Persian sweet-sour syrup with mint), Quince Sharbat and Hilda Leyel's Syrup of Rhubarb.
I skipped much of the Salt chapter as there was a lot of meat but I loved the Beetroot Cured Gravadlax and Whisky and Brown Sugar Cured Gravadlax.  Such simple instructions just waiting for a special birthday meal.
The final chapter is about Chutneys, Relishes and Pickles and I'm not a huge fan of those.  What I liked in this book however was the variety of countries the recipes came from.  Asian Carrot and Mooli Pickle from Vietnam, Russian Dill Pickles, American Pecan Conserve and Indian Mango Chutney to name a few for you to salivate over.
Diana's introduction sums this book up beautifully for me.  "Preserving is a delicious way of making everyday food a little special". It's a brilliant introduction to the basic techniques with a great range of recipes for beginners like me and the more experienced needing some inspiration. 
Book details
Hardcover: ISBN: 978-1-84533-564-9 Circa £10 on Amazon
Published by Octopus Books who I would like to thank for my complimentary copy.
Thank you also to Diana for inviting me to a wonderful tea party in her home, great company and chatter on a sunny afternoon and of course for signing my book.