Half term week was wet, windy and miserable.  Except the day my girls descended on Yeo Valley.  It was a gloriously sunny day and we had been invited to have a go at The National Trust's '50 things to do before you're 11 ¾' activities.   The collaboration is running until January and you simply pick up a scrapbook at any of the locations taking part and have a go.
Hot chocolates and then go go go…
The girls arrived to hot chocolates and a comprehensive briefing and then were dispatched with a map to get as many of the activities done as they could.
The trip took them all around the beautiful Yeo Valley estate uncovering worms …
…building mini dens…
Zooming in on the mini wilderness…
and creating works of art.
A healthy and sumptuous bag of yoghurts 
They had a wonderful day in the Somerset sunshine and Yeo Valley kindly gave them a lovely back of healthy yoghurts to bring home.  Our favourite was the Blood Orange and Caramel.  This is the thing to taste before the weekend is up!  It's creamy, sweet but not in a sickly way. It's velvety with just enough gloop to be a yoghurt vs a mousse.  And it has just the right amount of citrus to make you feel virtuous.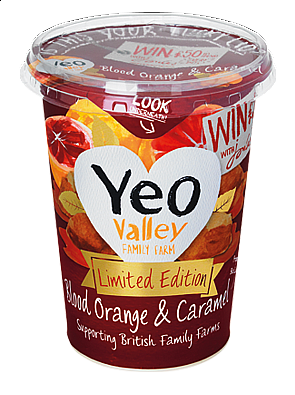 If that isn't enough then know that this pack along with many others has a special code which could win you a holiday in a National Trust cottage and family passes to the hundreds of sites across the UK.
A great British family business
Competitions and marketing campaigns aside, Yeo Valley is a great British family business that has been farming in Somerset since the 1400s.  That's pretty impressive.  They've won countless awards for sustainable development and compassionate farming so we really must commend them for sticking to their principles as well as churning out (literally) tonnes  of delicious yoghurt for us to enjoy.
Thank you to the Yeo Valley team for making my girls feel so welcome.  We'll be sure to visit again soon.