I have a confession to make.  The real reason I grow courgettes at the allotment is because of the flowers. There is something magical about these and my excitement and utter joy at seeing them for the first time each year never abates.  They peek through the foliage and just take make me swell with pride.
I have learned to be patient when picking them.  Too early and they will be too small to stuff properly.  Too late and their golden curls with be tainted and brown. Each variety brings challenges and this year I have learned that our small, long yellow variety produces smaller flowers than the globe green variety so harvesting has been a juggling act.
Preparing the flowers for eating
They are not difficult to prepare for eating. Use a curved knife to take them off the plant and then place them gently into a tray. I line this with some kitchen paper. Then gently shake any dirt off or brush it gently with a small soft bristle brush. Open the flower carefully and you'll see the pistel and stamen which need to be picked off. I just give them a pinch with my fingernails abd they snap off quite easily but if you don't have nails squeeze them together and gently pull off. Finally you might also want to remove some of the outer leaves at the base of the flower as they can be a bit spiky.  Don't overlook the sage.  It works exceptionally well with the halloumi and gives a wonderful scent in the kitchen too.
There are several recipes to stuff them and deep fry them.  My preferred batter is from Diana Henry which is light and quick but I also like Nigel Slater's version which allows a little resting time for the batter making it light and fluffy.  Recently however I was inspired by Kellie Anderson's use of panko breadcrumbs for a crispier, tempura like finish.  So the below is a hybrid that works for me as a light supper on busy weekdays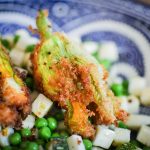 Print Recipe
Panko Fried Courgette Flowers With Halloumi and Sage
Notes
You'll need
2-3 courgette flowers per person
200g halloumi cheese
handful sage leaves
1 egg - beaten
2-3 tbsp plain flower
2-3 tbsp panko breadcrumbs
Vegetable oil for frying
To make them
Clean and prepare the courgette flowers as above.
Cut the halloumi into strips or chunks which are large enough to fit inside.
Wrap a piece of halloumi with some sage leaves and then carefully place a piece inside each flower.  You might want a couple of pieces depending on how large your flowers are.
Put the flour into one bowl, the panko crumbs into another bowl and the beaten egg into a third bowl and line them up side by side near the cooker.
Heat the oil to around 190C and prepare a platter with some kitchen roll nearby.
Gently pick a stuff flower up at the petal end so the filling doesn't fall out.  Dip it into the egg, then the flour and then finally coat with panko crumbs and pop gently into the hot oil.
Fry the flower until golden brown on all sides which should take about 3 minutes.
Repeat until all the flowers are fried and then serve with some crème fraiche.
I also prepared a quick salad of cubed raw courgettes and peas and leftover halloumi.  A red pepper or tomato dip also works really well.
What do you stuff courgette flowers with? Do you have any other tips for using them? 
Related articles