Since getting our allotment I have had runner bean envy of my neighbour's runner beans.  They are pristine.  not a black fly, white fly or any fly for that matter on them.  Each variety could have been entered into countless competitions and won.  I was determined to grow my own this year but I wanted to make sure the beautiful flowers were edible too so I could make absolutely the most of the whole plant.
We decided on the "Firestorm" variety and were excited simply to receive the seeds.  Look at how stunning they are!
The plants did well on our plot. I covered the soil in coffee grounds before planting and raked these in.  They had no problems shooting up and staying free of bugs. Perhaps because we planted them next to the nasturtiums I don't know.  I also scattered a few broken egg shells near the seedlings so they stayed slug free.
The flowers were a vibrant red.  Completely edible so we picked sparingly to have in our salads over the summer.
The beans themselves were beautifully tender at the beginning.  We remembered to pick them often and enjoyed them simply steamed.  Then we had a few weekends of being away so the beans were left to get a little large and were incredibly stringy.  The bonus was however that the beans inside got enormous so we cooked those up.  They went from a beautiful pink to a grey.  Not very pretty at all.
But the answer was to coat them in spices as I've done below in a simple Gujarati shak (dry curry).  I used the outers too after having removed the very stringy edge.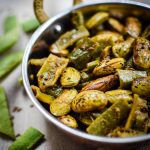 Print Recipe
Firestorm Runner Bean Curry
Servings: 4
Notes
You'll need
About 15-20 runner beans
2 tbsp sunflower oil
1 tsp small black mustard seeds
1 tsp cumin seeds
1 tsp table salt
1/2 tsp turmeric powder
2 tsp red chilli powder
2 1/2 tsp cumin and coriander powder
large clove of garlic, crushed
juice of half a lemon
5 sprigs fresh coriander, chopped coarsely
To make it
Prepare the runner beans by destringing and cutting into strips about an inch and a half long. It's OK if the beans pop out.
Heat the oil in a wok or a small saucepan on a medium. Drop a mustard seed into the oil after a few minutes. If it fizzles and pops then it's ready.
Add the mustard seeds and cumin seeds to the hot oil and then quickly add the prepared runner beans.  Be careful because the oil may spit so use the lid of a saucepan to defend yourself!
Add an eggcup full of water, stir and then add the rest of the ingredients except the lemon juice.  Stir again.  Use a form vs a wooden spoon so the dry spices do not stick to it.
Cover and leave to cook for about 15 minutes until the beans are tender.
Add the lemon juice and fresh coriander, stir through and then turn off the heat.
Serve this with plain basmati rice or with fresh chappatis.  My daughters have this with a dollop of plain yoghurt in a pitta bread half.  It's a great midweek supper.
What's your favourite way to eat runner beans? Any tips on growing them? 
Related articles