I was reading a post on sunflowers for every occasion over at The Garden Deli which inspired me to go and seek out the different kinds of sunflowers around our allotments.
I didn't have to look far.  These stunners have given us a little bit of sunshine every time I go to the water butt.
On a different corner I saw this huge sunflower head and thought about the fabulous seed harvest to come.
Sunflower seeds are so versatile 
I love sunflower seeds.  I'd say they are my favourite of all seeds and nuts as they are just a jar away for all kinds of dishes during the week;
Toast and sprinkle onto porridge in the morning.
Add a handful to smoothies for a nutritious boost.
Toss into salads for some crunch.
Add a spoonful to a bowl of soup instead of fatty croutons.
Use instead of pine nuts for pestos.
Crush and mix with fresh herbs and lemon juice for a crusty topping for fish.
I do also rather like them in flapjacks.  They work really well with the chewy oats and this combo with lemon is wonderful for remembering the vibrant sunny days of summer.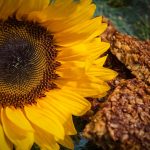 Print Recipe
Sunflower Seed and Lemon Flapjacks
Notes
You'll need
125g butter
110g brown sugar
1 tbsp honey - I used lemon manuka honey
200g rolled oats
200g sunflower seeds
1 large lemon – zest and juice
To make about 10
Preheat the oven to 150C and line a 12 inch square baking tin with greaseproof paper
Put the sunflower seeds, oats, lemon zest and juice into a mixing bowl and mix together.
Put the butter, sugar and honey in a saucepan and heat slowly until dissolved and melted.
 Pour the butter over the dry mixture and mix until all the oats and seeds are coated.
Pour this into the lined baking tin,  flatten it out and press it down well with the back of a wooden spoon.
Bake this for approx 30 minutes until golden brown.
Cut it into pieces as soon as it comes out of the oven and then leave it to cool completely in the pan.
These are lovely dipped into melted chocolate or with a dollop of creme fraiche as a zesty pudding.
 How do you use sunflower seeds? Which kinds of sunflowers have you planted?