I came to this country (that is to say the United Kingdom for those of you who may be reading this blog elsewhere) in 1976.  I was very little and spoke barely any English. I had been privileged enough to attend an English speaking Kindergarten in my birth country of Tanzania but it wasn't enough to prepare me for the onslaught of different speeds and dialects I faced on starting school in London.
An early memory that comes to mind at this time of year was my very first Christmas at primary school.  I wasn't allowed to be an angel in the school nativity because I was 'from Africa'.  There were apparently no angels at that time 'from Africa'. I would get into trouble because I couldn't sing the hymns and more than that, I didn't want to.  What if my God got upset that I was singing another God's songs? Not a risk I was prepared to take. I wasn't able to help with any preparations because my teachers didn't have the patience to sit with me and explain things more slowly at this busy time.
The single comfort I had was school lunch.  And most especially Christmas school lunch.  As I don't eat meat it was all about roast potatoes for me.  Roast potatoes with extra roast potatoes on the side.  I would tolerate the soggy sprouts if I had extra potatoes.  And for dessert a chocolate yule log. At first I wondered why anyone would ever want to make anything in the shape of a tree stump.  But then after I had taken my first mouthful I understood. It was simply the most divine thing I'd ever eaten.  Way better than the jammy spongey thing they slathered with thin, milky custard.
My daughters' experience of primary school is so far from my own.  They have been beautiful angels in their nativity plays as times and attitudes have thankfully moved on.  They bellow out hymns in the choir and at church as they have two faiths and Jesus is of course best friends with Lord Krishna. Everybody knows that.  But I am sad to say that their school yule log isn't a patch on the one my old dinner ladies used to make.  It's shop bought fluff which is sickly sweet.  Never mind.  At least they can come home to mine…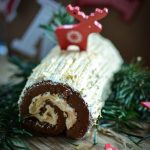 Print Recipe
Ginger and Caramel Yule Log
Servings: 6 -10
Notes
You'll need
15g butter
3 eggs, separated
120ml treacle
140g plain flour
2 tsp ground ginger
1/4 tsp baking powder
1/8 tsp salt
55g caster sugar plus a little extra for sprinkling
160g soft unsalted butter
200g icing sugar
2-3 heaped tbsp caramel sauce - I used this one from Waitrose
edible glitter for sprinkling
To make it
Preheat the oven to 180C and line a swiss roll tray or tray bake tin with greaseproof paper.
Lay out a damp tea towel on a clean work surface and cover with greaseproof paper.  Sprinkle over some caster sugar.
Melt the butter and set aside.
Whisk the egg whites until they form soft peaks and then add the caster sugar a spoonful at a time until you have a stiff mixture with a nice satin sheen.
Beat the egg yolks til they are thickened - about 5 minutes in a KitchenAid mixer using the paddle attachment.
Add the melted butter and treacle and whisk together for another 2 minutes.
Fold in the egg white mixture and then sieve in the flour, ground ginger, baking powder and salt.
Pour the mixture into the lined baking tray, level off with a spatula and then bake for 12-15 minutes.  It should be springy to touch.
Take it out of the oven, leave to cool for a few minutes and then tip out, front facing down, onto the greaseproof paper you prepared in step 2 above.
Leave to cool slightly and then gently peel off the paper on the bottom of the sponge.
Roll it up from the short edge so you have a nice tight 'log' and then leave to cool completely.
While it's cooling make the frosting and filling.  I've used the buttercream for both.
Beat the butter and icing sugar together until soft and fluffy and then dollop in the caramel to your taste.
When the sponge is cool, unroll it and then spread over about a third of the frosting.  Roll it up again and then place seam side down onto your serving platter.
Cover the rolled up 'log' with the remaining frosting and then sprinkle over some edible glitter.
Thank you to the team at

Waitrose

for commissioning this recipe.
What are your memories of school Christmas lunches?  Which dessert did you have?