It's been almost Spring like today.  I woke up before the sun and sat with a cup of tea watching it come up over the garden.  A rare opportunity with children in the house. I've been distracted by the sky ever since.  It's been so vividly blue I couldn't help stopping and staring out into it.  I love this kind of weather.  It's cold and crisp so cups of tea amidst the pottering and distraction have been plentiful.
My pottering led to a fridge clean out leaving just one more jar of my favourite elderflower and lemon marmalade and a nearly full jar of orange, bergamot and lime marmalade from Artisan Kitchen.  A leaving gift from work colleagues of long ago. Cleaning the fridge led to a stock take of the cupboards.  Half eaten jars of marmalade, half used packs of butter, nearly empty bags of flour and a few eggs.  The perfect ingredients for some simple and fast baking and something sweet to accompany my tea.  And of course the weather inspired a little floral connection too.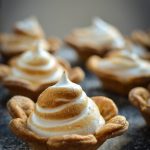 Print Recipe
Marmalade Meringue Tarts
Notes
You'll need
1 shallow tart trays
A round or flower shaped cutter
200g plain flour
100g cold unsalted butter
2 tbsp icing sugar
1 large egg
1-2 tbsp very water
Some marmalade
55g egg whites (whites from about 1.5 large eggs)
110g caster sugar
2 tbsp orange blossom water
To make 12 tarts
Make the pastry first.  Blitz the flour, butter and icing sugar in a food processor til you get breadcrumbs.
Beat the egg with the very cold water and then slowly add this to the breadcrumbs a little at a time to make a soft dough.  Leave the pastry to rest in the fridge for at least 30 minutes.
When you are ready to bake, preheat the oven to 200C and grease the tart trays .  If you are using a flower cutter you will need to space them out to about 6 per tray.
Roll the pastry out to a few millimetres thick and then cut out 12 flowers.
Put the pastry flowers into the trays, press down gently, then prick the bases lightly with a fork.
Lay a little foil on top and then fill each with some baking beans.
 Bake for 5 minutes and then take the baking beans off and bake for a further 5 minutes til golden brown.
Leave them to cool while you make the Italian meringue. Whisk the egg whites til you get stiff peaks and then stop.
Heat the caster sugar with 2 tbsp of orange blossom water to 115C.  It will become a syrup.
Pour this in a thin stream over the stiff egg whites whisking all the time.  Continue whisking til the mixture goes smooth, stiff and glossy.
Dollop some marmalade into each cooked pastry case and then dollop over some meringue.  Or pipe it in blobs as I've done.
Finally, the best bit, lightly blow torch the meringue to brown it off or you can pop it under the grill for a few minutes.
How do you spend your sunny days? Have you made any marmalade with the Seville oranges in season? 
Related articles