So what is 'it' that is eating my kale?
For the last two years I have planted kale at the allotment.  I have given up trying to grow from seed.  It's impossible without a greenhouse so I am ashamed to say that I get a batch of six from the garden centre.  Almost before I have even left the plot they are being eaten.  But what is it that's eating away at my dinner?
When I come back to water the very next day, the plant is barely visible.  Just the stalks protrude from the ground.  This is a clue.  Whatever it is does not or cannot gnaw at the thick stalks.  Rather like me.
Anyway, I've plenty of crop even if it is nibbled on and doesn't look as pretty as it should.  So it gets blitzed. Of course.  This is the perfect solution for the hole ridden leaves.
The blitz of choice is soup. I barely blanch the kale leaves to retain their goodness.  Vitamins A and C in abundance and I read recently that despite the low fat content, the fat that it does contain is Omega 3 so that's a bonus for me too. I've paired this one with coconut milk and added a baked potato I had in the fridge for a little thickener.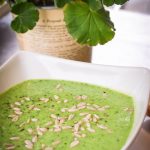 Print Recipe
Kale and Coconut Soup
Servings: 4 -8 depending on bowl size
Notes
You'll need
400ml tin of coconut milk
175g - 200g kale (no stalk just leaves)
1 medium sized potato, cooked
1 tsp vegetable stock powder. I use Kallo stock powder.
salt to taste
sunflower seeds to decorate
A power blender - I use a Froothie 
To make it 
Put the kale into a colander and pour over some boiling water.
Pour the whole tin of coconut milk into the Froothie/blender
Fill the empty tin up again and then pour that in too.
Add the potato, kale and stock powder.
Blend for 2-3 minutes til well combined.
Pour the soup out into a saucepan, season to your taste and then heat 'til simmering.  You may wish to add more water.  I like it rather thick.
Pour into bowls and sprinkle over with sunflower seeds.  Serve with crusty bread or on it's own.
What do you think is nibbling at my kale? How do you use the not so perfect leaves?