It's Bonfire Weekend in the UK. It's a pretty grim one to be honest.  As I'm writing this post I'm snuggled in my fleece pyjamas and woolen socks with the heating on full but still feeling cold looking out at the rain.
No matter. It is Bonfire Weekend and we shall celebrate in wellies and waterproofs if we have to but celebrate we will.  You see it's become one of those family traditions.  An unwritten rule that we must bake pie, layer up, do sparklers in the garden and then wander down to the local park to watch the fireworks whilst munching on take away fish and chips.  We come home chatting about the glittery one and that big one that went right up into the sky.  We put the fire on, toast marshmallows and watch X Factor or Strictly Come Dancing while drinking tea and eating pie.  Slowly the layers come off and as our fingers and toes come back from the coldness that numbs them and all is well.
The pie is always pecan pie. Well at least it has been until this year. I simply couldn't find reasonably priced pecans so I've baked a hazelnut pie.  I'm torn as to whether this is a pie or a tart though?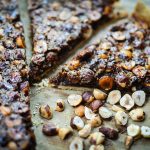 Print Recipe
Hazelnut Pie / Hazelnut Tart
Servings: 8 large slices
Notes
You'll need
200g plain flour
100g cold butter, cubed
pinch salt
1 egg beaten with 1 tbsp lemon juice and 1 tsbp very cold water
100g treacle
100g golden syrup
50g soft unsalted butter
50g soft brown sugar
50g caster sugar
120g hazelnuts, chopped
2 eggs, beaten
2 tbsp flour
23cm pie dish or loose bottomed tart tin
To make it 
To make the pastry, put the flour and cold butter into a food processor and press the pulse button a few times until you have breadcrumbs.
Add the beaten egg, lemon juice and water and then keep pulsing until the mixture comes into a ball of dough. You may need a little more cold water depending on how big your egg was.
Knead the dough lightly and then wrap it in cling film and pop it into the fridge.
When you're ready to make your pie/tart, lightly flour a work surface and roll the dough out to about 5-10mm thick.  I rather like a thick crust on this one because the filling is quite rich.
Prick the base with a fork, line with cling film and pour in some baking beans.
Place the whole thing in the fridge.
Put your oven on now to 180C. When it's ready, take the lined pastry tin out of the fridge and bake it for 15 minutes.  Take the cling film and beans out and then bake it again for 5 minutes to dry the base out.
Leave it to cool while you make the filling.
Put the treacle, syrup, soft butter and sugars into a pan and leave this to melt over a low heat til they all come together in a syrupy gooey mixture.
Take it off the heat and then add the nuts, flour and eggs and whisk quickly together.  If it's too hot the eggs will scramble.
Pour this into your baked pastry case and then bake again for 45-50 minutes. It might still be a bit wobbly but will thicken as it cools.
Serve hot with cinnamon ice cream or cold with custard. That's how we like it anyway.  Clotted cream is also a good topping as is creme fraiche.
So what do you think? Is this a pie or a tart? Do you have any family rituals for Bonfire Night? 
Related articles