I ate the last of my squashes this weekend. The little baby ones that have been so pretty as decorations. The ones that didn't get stolen for Halloween. I was inspired to keep them whole by this recipe by Emma at The Food Gatherer.  I then remembered seeing something similar in one of Diana Henry's books and concluded that it really is the ultimate comfort food to cosy up with.  It's a supper for a cold, autumn evening. A crisp Sunday night like tonight and needs nothing more than some crusty bread for dipping and a dry white for sipping.
This recipe is adapted from Diana Henry's Roast Figs, Sugar Snow. I added some thyme from the garden.  I was out raking leaves and I could smell it so strongly from the little corner where it lives that it made me hungry.  It takes a slight edge off the creaminess and adds to the wonderful aroma that will fill your kitchen.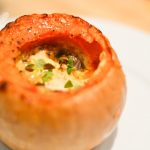 Print Recipe
Roasted Porcini and Thyme Squash
Servings: 4
Notes
You'll need
4 small squashes - If you can't find any just use the bottom rounded part of a butternut squash
80g dried porcini mushrooms
50g soft unsalted butter
200ml double cream
80g grated parmesan
Salt and pepper for seasoning
6 fresh thyme sprigs
A baguette or similar crusty bread
To make them
Preheat the oven to 190C
Put the mushrooms in a large bowl, cover them over with boiling water and set aside.
Prepare the squashes.  First cut off the top which will act as the 'lid' and then by scoop out the seeds.
Line them with the butter. You just need to get in there with your fingers and smear the butter as evenly as you can.
Put the squashes into a roasting tin and season them with a sprinkling of salt and pepper.
Take the mushrooms out of the water, squeeze and excess water out and then divide them between the four squashes.
Add a sprig of thyme to each one.
Pour over the cream and season again.
Bake for 30 minutes and then take them out of the oven.
Sprinkle over the parmesan, season again and then put them back in the oven for 15 minutes. The squash should be soft and tender when it's ready.  A sharp knife will glide in and out easily.
At this point I'd go slip into your PJs and comfy wooly socks and pour yourself a glass of wine and slice up some of the bread in preparation for dinner.
Take the squashes out of the oven. Pop them onto a plate and sprinkle over some fresh thyme leaves.
Plonk yourself down on the sofa in front of the fire with a nice film and enjoy the plate of comfort.
What's your ultimate comfort food?