Firstly Happy New Year to you all.  Did you have a good one? We celebrated in the Florida Keys. Islamorada to be precise. Ringing New Year in on a hammock at midnight GMT.  The Americans thought we were rather mad shouting Happy New Year and singing Auld Lang Syne at 7pm EST. But quite frankly it's only New Year when Big Ben says so we carried on regardless.
I'm back home now poring over various running plans to get my body ready for my first London Marathon in April.  If you'd like to add a song to my running playlist you've got until the end of March. It's looking pretty good so far with a nice mix of songs.  I feel confident enough with the running side of things. Funnily enough it's the eating that I'm worrying about.  There are so many differing points of view on what to eat and what not to eat before running, after running and for running!  All I know is that I get too hungry by the end of my run. So I'm trying out protein packed smoothie bowls to help keep me fuller.
I have not been a fan of smoothie bowls to be honest with you.  Inspired by my friend Monica I gave them a go.  Her bowls always look so inviting and vibrant. But it felt a little too much like eating baby puree.  I have persisted however and discovered that the key to not feeling like I'm eating baby puree is to add textures and lumps.  Then it feels more like eating porridge – which I love!
My first smoothie bowl of the year uses persimons.  Not a fruit I'm too familiar with or have bought in the past.  I was sent some just recently to try and have been amazed at the flavour and versatility.  The variety I tried is called "Rojo Brillante" and comes from the Xuquer River Valley near Valencia in Spain.
I munched on one raw like an apple.  It was a cross between a peach and a mango.  Very sweet but not sickly.  I popped the rest in the fridge.  Two weeks later when we came back from Florida, some were still pretty hard so they went into a crumble.  It had a beautiful flavour – almost perfumed – and needed much less sugar than an apple crumble. The rest were a bit squishy so they went into my smoothie bowl. It was a good introduction to persimons and a good start to my training plan.  Hope you'll give it a go.  I've added it to my Pinterest Smoothie Bowl board along with other inspiration.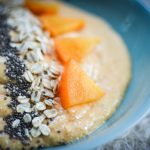 Print Recipe
Persimon Smoothie Bowl
Servings: 1 -3
Notes
You'll need
1 soft persimon
1 cup rolled oats - I used Flavahan's
1/2 cup coconut milk - I used Alpro
Toppings of your choice. I used chia seeds, oats and raw persimon chunks
To make it 
Pour boiling water over the oats and set aside for a few minutes to soften.
Pop the persimon and coconut milk into your blender. I used my Froothie* which works well as you can adjust the thickness of your smoothie by varying the speed.  A fast speed will give you a smooth consistency and pulsing at a slow speed will give you more texture which is what I like.
Drain the oats and add 3/4 to the blender and blitz to your preferred consistency.
Pour into a bowl, stir in the remaining 1/4 of the oats, add your toppings and that's really all there is to it.
*Just a little note to let you know that I am an ambassador for Froothie and the link with the asterix above is an affiliate link. This means that if you happen to buy a Froothie by clicking on that link I get a small commission. You get no additional charges or anything like thatbut I just wanted to let you know!
Are you a fan of smoothie bowls? Do you have any tips for me for running and eating well? 
Related articles