I am so lucky to have two beautiful girls. Currently out "spending their book tokens" AKA shopping in TK Maxx to buy Mummy some odd bowls and plates for food styling. They know me so well. Truth be told, I don't need cards or any gifts from them. Seeing them change and grow is gift enough. I'd actually just like a proper English fry up tomorrow morning and a little potter around the allotment back in time for a little afternoon tea. And it is nice to have a treat or two lined up. We like afternoon tea on birthdays and special days. A cosy fire, a pot of tea, a tray of treats and a nice family film on the telly.
March is a month of birthdays and anniversaries for us and with the cafe now too there seems to always be cake in the house. Today I had some sweet potato and chocolate cake leftover. It's quite a moist, dense cake which is perfect for moulding into balls. So we've transformed it into some posh cake pops. Easy to do and you can be as fiddly or as not fiddly as you like. We covered our's in some fondant icing and decorated with edible glitter. My girls will never grow out of the edible glitter phase! And of course a few flowers to add a hint of Spring.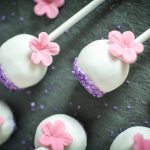 Print Recipe
Floral Cake Pops
Notes
You'll need
A 23cm cake - a dense sponge or fruit cake works well if like us you don't want to use any buttercream.
A pack of ready made fondant icing
Edible glitter for decoration
A packet of cake pop sticks
A baking tray lined with greaseproof paper
To make them
Divide the cake up into about 20-24 portions roughly the same size.
Wet your hands, take a portion, squeeze and roll it into a ball.  Press the cake quite firmly so the ball is a little compact.
Repeat to use up all the portions of cake and then place the balls on a baking tray lined with greaseproof paper. Pop this in the freezer for 30 minutes.
Meanwhile you can roll out the fondant icing and make pretty flowers etc.
When the balls are sufficiently frozen, roll out the fondant icing to about 5mm thick. Cut circles large enough to fit your balls.  I used an 8cm biscuit cutter. and then carefully wrap each frozen ball in the fondant blanket.  You can use a little water to blend any seams or rips together and smooth them off.
Repeat for all the balls and then pierce each one with a cake pop stick.
Dip the top in a little water and then dip into edible glitter. Done.
They will be ready to eat in about an hour when the ball of cake inside the fondant has defrosted.
Here are a few more ideas for cake pops…
Are you a fan of cake pops? What do you have on your little afternoon tea treat tray?