It's nearly time for the London Marathon.  My training has gone well in the main.  I had a bit of a lapse this week as I've not been feeling well.  Truth be told I'm struggling a little on the food side.  I hit my fundraising target within a few months of signing up, my training has been slow but steady but I'm bored with carb loading.  It's HARD eating an extra 600 calories a day! I never thought that would be the area I'd get bored of the most quickly!
So it really cheered me up when the postman brought an icy package last week.  Two tubs of brand new not-in-the-shops-yet ice cream – Häagen-Dazs Lychee Raspberry Rose and Häagen-Dazs Apricot Lavender. Both are part of a new Little Gardens Limited Edition range are are exclusively available in the UK at Liberty London. What a marvellous collaboration.  
The tubs have been designed by Jardins de Babylone, a team of botanical artists from Paris and to celebrate the launch, Häagen-Dazs will be taking over one of Liberty's Carnaby Street windows with a floral display from Monday 11th April.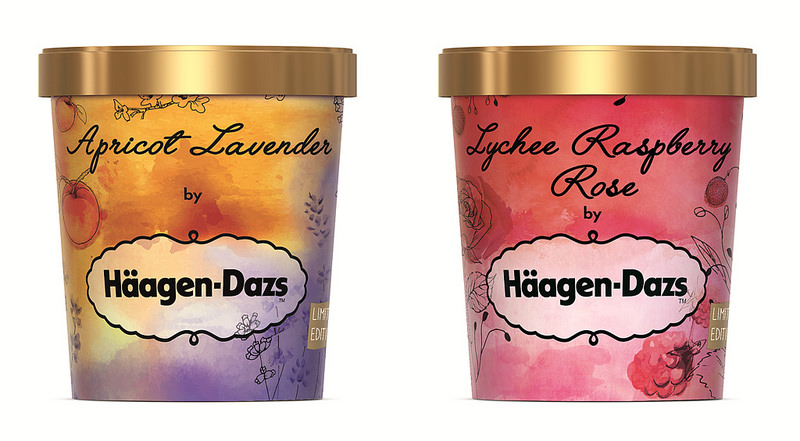 Now then I could quite happily have eaten a whole pot to myself when I got back from my long training run.  One pot = lots of calories = daily food and carb loading objective completed right?  What better recovery than that for my poor tired legs? But I decided to have a second breakfast and THEN eat the whole tub!
I chose the Lychee Raspberry Rose as a topping for french toast.  Usually I have fruit, nuts, seeds and yoghurt but as I'd run 20 miles I think replacing the yoghurt with some quality ice cream made with real ingredients was just the right amount of indulgence.  The Lychee Raspberry Rose uses fresh cream, real milk, sugar and free range eggs just like all Häagen-Dazs ice creams but then you have Turkish Rose extract, fresh lychees and raspberries stirred in.  The flavour really is rather special.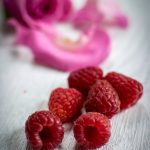 Print Recipe
French Toast with Haagen Dazs Lychee Raspberry Rose Ice Cream
Notes
You'll need
2 large eggs
2 tbsp double cream or creme fraiche
2 slices of crusty bread - I use two day old white bloomer or sourdough
1 tbsp butter
A scoop or more of Haagen Dazs Lychee Raspberry Rose Ice Cream
Fresh raspberries
To make it simply beat the eggs and the cream/creme fraiche together in a large bowl and then drop in the bread slices.  Leave them to absorb all the eggy mixture while you heat the frying pan. Add the butter to the hot pan and let it melt a little then gently place the eggy bread on top.  Cook for a few minutes on each side and then serve hot dolloped with the ice cream and raspberries.
I have big plans for the Apricot Lavender this weekend.  It's made using a thick apricot sauce and chunks of real Moroccan apricots.  I think it will work well on my floral granola. I make a base granola of oats, nuts and seeds and then stir in rose syrup, edible grade lavender flowers, dried marigold petals and some chopped, dried apricots. Or perhaps I'll just eat the whole tub? I'll see how I feel after the 16 mile target!
If you'd like to try the ice creams, pop into Liberty from 11th April until London Marathon Sunday – 24th April.
Thank you to the team at Häagen-Dazs for sending me such a lovely package and commissioning this recipe.  It really did make me smile after all the long training runs.
A few more ideas