It's mango season!
Last week I bought a box of 12 Kesar mangoes for £10. So expensive! My mother will wait until boxes hit £5 but I'm too greedy and can barely contain myself walking from vendor to vendor on Ealing Road in Wembley.  I bought two boxes because we ate one in the car. This is the primary reason we keep a box of baby wipes in the glove compartment!
Now because it is early in the season, there were a few unripe mangoes in the box. No matter. I used them for this delicious snack of Mango Chaat.
Chaat is the Gujarati word for 'lick'.  There are dozens of different versions but essential a chaat dish will be one which refers to something that leaves you licking your lips and fingers wanting more. The key ingredient in any chaat will be amchur which is dried mango powder.  It has a deep sour flavour which gives a light citrusy taste. It is now readily available online
It's typical street food in Gujarat and popular at any time of day as a little pick me up. Each stall has their own variation and this one with mangoes is mine.  Feel free to experiment with whatever you have lying in the fridge that needs using up. Strawberries, raspberries and even sour Granny Smith apples work well.
This is also very nice with some Chevro (Bombay Mix) tossed through or sprinkled on top.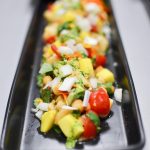 Print Recipe
Mango Chaat
A wonderfully refreshing sweet and sour streetfood inspired salad
Ingredients
50

g

fresh tamarind pulp

1 400

g

tin boiled new potatoes

1 400

g

tin chickpeas

12

cherry tomatoes

A few pieces of fresh coconut – try the supermarket snackpack section

1

small onion

1

barely ripe mango

Handful fresh coriander

chopped

1-2

tsp

salt

1-2

tsp

red chilli flakes

1

tsp

amchur – dried mango powder – optional
Instructions
Put the fresh tamarind pulp into a cup with a few tablespoons of water and set aside for about 30 minutes.

Drain the potatoes, chop them into small 1 cm cubes and then put them into a large mixing bowl and add the drained chickpeas.

Coarsely chop the onion and add that in along with the chopped coriander.

Chop the tomatoes in quarters and add them in.

Chop the mango into cubes and add it in.

Slice the coconut into 1 cm or so strips and add them in.

The tamarind should now be soft and squishy. Strain it through a sieve to remove the stones and fleshy pith and then pour it into the bowl.

Mix all the ingredients in the bowl together and then season to your taste with the salt and chilli.

Spoon the mixture onto a plate and then sprinkle over some of the amchur if you have it.