It has not been a good year for the allotment. It's really strange how we've had no luck and no time. Usually one or the other motivates us to go but it's been hard to get excited when everything we've planted gets eaten or dies. The slugs have just taken over this year with the extra rainfall.
There have been two weekends when we've tidied, cleared the weeds and strimmed the long grass. Leaving with the satisfied excitement you have at the start of a new growing season. But then work and family life, not to mention time running the cafe, has got in the way and we're back to weeds and grass.
The one plant that has not let us down is our lovely rhubarb.  We planted it last year and there were just a few thin straggly sticks poking out of the ground. I put four canes around them and tied some string to protect it from The Thing that wanders the plot. I was so excited to harvest it.
There are so many things I wanted to make with but settled on this light salad which was inspired by another favourite – pear, stilton and walnut. Watercress is also in season now so I chose that at the market but you could use rocket or spinach, perhaps nettle and nasturtium leaves too.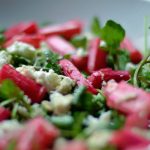 Print Recipe
Rhubarb, Watercress and Feta Salad
Notes
3 sticks of lovely pink rhubarb
50g brown sugar
100g feta cheese, crumbled
2 handfuls of fresh watercress
2 tbsp balsamic vinegar
2 tbsp runny honey
1 tbsp extra virgin olive oil
Wash the rhubarb and cut it into 1 inch sized pieces then pop it into a bowl and sprinkle over half the sugar.  Leave this to sit while you preheat the oven to 200C. Tip away any juices that have come off the rhubarb, sprinkle over the rest of the sugar and then roast for 15 minutes. It should be soft but have still retained it's shape. Place the watercress on a plate, sprinkle over the feta and then place the rhubarb over the top. To make the dressing just mix together the vinegar, honey and oil and then drizzle this over the top. You shouldn't need any seasoning as the feta is pretty salty anyway. You could sprinkle over some pumpkin seeds or croutons if you like a little bite to your salad or perhaps some toasted black sesame seeds to add another colour.
Here are some more savoury rhubarb recipes I found that you might like to try