Have you noticed how many varieties of pumpkin and squash there are nowadays? Perhaps it's because I've only recently started to like eating them but I find that every market – even my local – has at least four or five to choose from. I have tried growing squash on the allotment but other than one spaghetti squash last year they've all either been eaten or never really grown large enough. Sadly I can blame nothing but myself as my local organic farm, where the below squashes came from, is only a five minute walk from the allotment. Theirs are perfect as you can see.


Working full time during the week means I rarely have time to slow roast vegetables. Today however was a different story. It's been a constant drizzle all day and it's bitterly cold. None of us have wanted to leave the house. Not because of the cold I might add but because we have a wonderful new addition to our family.


This is Pip. She's about 10 weeks old and we are all smitten. We're getting to know her and she us but I think we all have one thing in common and that's eating! She has a ferocious appetite! Not for pumpkins and squashes I might add!
So as the girls spent the afternoon cuddling and playing with Pip, I put the oven on low and popped our late lunch in. I settled on the orange squash above in tribute to the Little Ginger as I call her. This autumnal gem was in our Enfield Veg Co delivery a couple of weeks ago. It's called a Potimarron and is great for baking. It has a nutty flavour and the skin softens beautifully in the oven.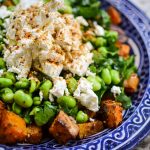 Print Recipe
Autumnal Squash And Broad Bean Salad
An easy salad to serve with some warm baguette to mop up the vinaigrettey dukkah. It also works well with a roasted white fish or hot buttery prawns. It's just as nice cold with boiled or poached egg.
Ingredients
2

large Potimarron squashes or 2 Butternut squashes

3

tbsp

sunflower or rapeseed oil

5-6

tbsp

dukkah

500

g

frozen broad beans

3

tbsp

of your favourite vinaigrette

100

g

chopped finely chopped parsley

200

g

feta
Instructions
Put the broadbeans into a pan, cover with water and bring to the boil. Cook for about 2 minutes and then drain. Next preheat the oven to 180C for a quick roast and 80C for a slower roast. The slow roast just caramelizes the vegetables a bit more.

Wash the squashes well and then cut them, skin on, into 3cm chunks. Toss them in the oil and then roast them for about 20 minutes for a quick roast at 180C and about 45 minutes for a slower roast at 80C. Check them often to make sure you don't over roast them. You want some bite. Once cooked transfer them to a bowl and sprinkle over the dukkah. Toss so that all the pieces are evenly coated and then pour them onto your salad platter.

Put the broad beans into a bowl. Pour on the vinaigrette and chopped parsley. Mix well and then pour the beans on top of the squash. Finally crumble over the feta and top with more dukkah if you wish.
The salad didn't last long. I think my girls were keen to get back to Pip more than anything else.
PIN THE AUTUMNAL SQUASH, BROAD BEAN AND FETA SALAD RECIPE FOR LATER