I do love a good biscuit don't you? Having a cup of tea in the afternoon without a biscuit feels rather sad. Usually I send one of the girls across the road to the newsagent to get a packet of Rich Tea. Now that is a good biscuit. But today I wanted something rather different and a little decadent.  Something to use up the mountain of butter in my fridge. Something that would keep well for the week as it's a busy one and simple pleasure like biscuits in tea make all the difference to stress levels. Shortbread would do the trick. Shortbread with a bit of luxury.
Rosewater is one of my most favourite ingredients. There is always a bottle in the fridge and when there isn't, handily the Turkish grocer across the road sells them. And he also happens to sell pomegranates which are another favourite. I've never used the latter in baking so decided to have a little play today. It worked out rather well.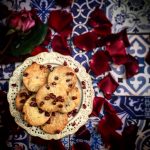 Print Recipe
Pomegranate and Rose Shortbread (Cookies)
Ingredients
Seeds from half a pomegranate

300

g

plain flour plus a bit more for rolling

1/2

tsp

baking powder

150

g

unsalted butter

100

g

or 150g caster sugar

1

large egg

beaten

1.5

tbsp

Rosewater
Instructions
Preheat the oven to 160C fan and line three baking trays with greasepoof paper

Cut the pomegranate in half and then take out the seeds from one half and set aside

Put the flour, baking powder and butter into a food processor and pulse a few times til you get breadcrumbs. Or you can rub the butter into the flour by hand.

Stir in the sugar.

Add the beaten egg and Rosewater and pulse again til you get a ball of dough.

Flour your work surface and roll out the dough gently.

Then sprinkle over the pomegranate seeds evenly and gently roll the dough back gently into a ball.

Pop in the fridge to chill for about 30 minutes.

Flour a work surface and roll the dough out to about 5mm thick*

Cut out 8cm rounds and place them on a baking tray.

Bake for about 25 mins til golden.

* if you don't fancy doing this step you can simply grease a 20cm baking tin and push the dough into the base instead. Score into portions before baking.
Related articles